by Curlan Campbell, NOW Grenada
GSPCA wins second case of animal cruelty in 20 years
Dogs severely dehydrated and starved by owner
A man who starved 2 mixed breed dogs, a male and female, was recently brought to justice, making this the second case of animal cruelty brought to court in Grenada by the Grenada Society for the Prevention of Cruelty to Animals (GSPCA). The GSPCA won their first case nearly 20 years ago.
The name of the individual was not released by the animal shelter's management since the convicted man is now serving community service at the shelter. He was fined $1,500 by the court which must be paid in one month's time, and as a consequence, he is no longer allowed to own any animal for the duration of his life.
President of the GSPCA Luana Levy said this recent court victory on 12 June 2018, will set a precedent in Grenada that animal cruelty in any form will not be tolerated but regrettably, she said this came at a heavy price since the male dog died as a result of severe dehydration and starvation.
Levy said the GSPCA first got involved in this case in May of last year and opted to work along with the individual who at the time showed remorse for his action and had expressed interest in learning how to take care of his two pet dogs. However, in March of this year, a routine inspection found the dogs to be in worse condition. This led to the individual being charged.
"The image they saw can only be described as horrific. The male was pretty on his last breath, and the female was not as bad but was getting there completely dehydrated and obviously hadn't been feed for weeks. Our volunteer did tell the owner's girlfriend that they would be back within an hour to collect those dogs and we did return within an hour. However, the male had already passed away."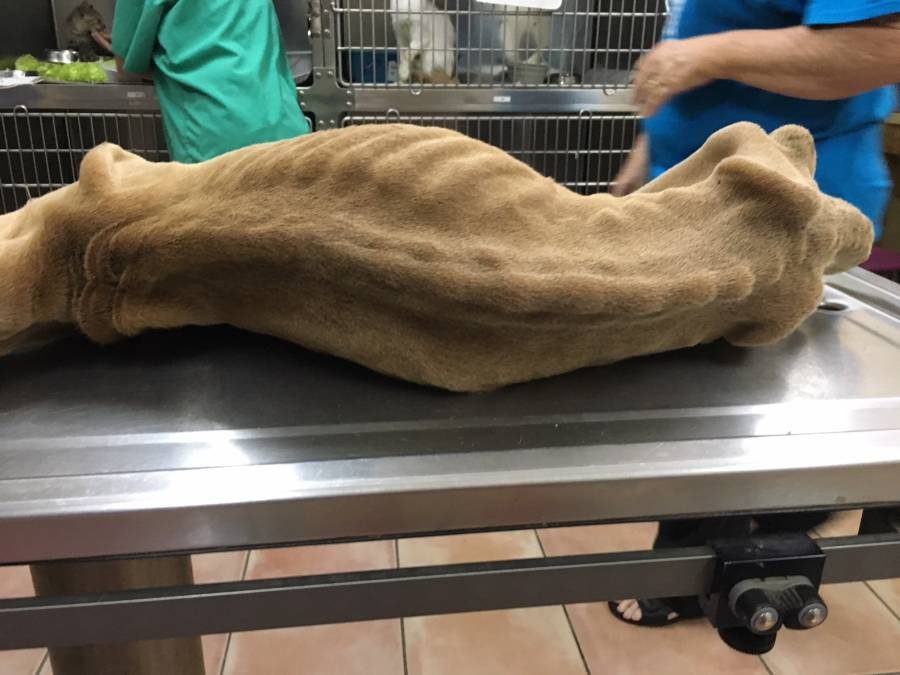 The GSPCA president said the matter was reported to the police who responded quickly in having the man charged and brought to court, which eventually led to his conviction. The animal shelter is calling for stricter enforcement of the laws. "It's there is just a matter of enforcement of the laws. We have been in touch with police and have been working with them. We do feel that they are in support and we are very thankful for that, but I think it's more of a matter of enforcement of the laws and getting people to understand that a life is a life; and just as you wouldn't put your child outside without food or water for days, the same thing should not be done to an animal."
Despite their recent victory, Levy said there are a number of cases of animal cruelty that have not been prosecuted. "We have other cases where an animal has literally been living in a box – these are adult dogs. From the moment they were pups they were basically nailed shut in a dog kennel and never let out. We also have dogs that were bitten or cutlassed. We had a dog he was on a short leash 24/7, so he decided to pull down a towel that was on the line and started playing with it because no one was interacting with him and when the owner came home at night he took a concrete brick and broke the dog's leg with it."
The GSPCA operates as a veterinary hospital and is a no-kill shelter that seeks to provide foster care to animals. However, if an animal is suffering from an extensive injury or illness, the organisation will have no other choice but to euthanise humanely.
Grenada has strict laws regarding the prevention of Animal Cruelty under the Animals Prevention of Cruelty Act. Under the act, a person found guilty can be fined a maximum of $3,000 and can face imprisonment for 9 months.
Originally founded in 1936 as the Royal Society of the Prevention of Cruelty to Animals, the Grenada Society for the Prevention of Cruelty to Animals is one of the oldest societies in the Caribbean.
NOW Grenada
is not responsible for the opinions, statements or media content presented by contributors. In case of abuse,
click here to report
.