by Linda Straker
45 persons representing 8 political parties and 2 independents are candidates for 13 March 2018 General Election
NNP and NDC are the only political parties to register candidates in all constituencies within the legally stipulated time.

After the close of nomination today, 45 persons were nominated as candidates for the Elections of 13 March 2018 in Grenada Carriacou and Petite Martinique.
They are each hoping to receive the majority of votes in their constituencies so that they can represent the people in the House of Representatives of Parliament.
The only political parties to register candidates in all constituencies within the legally stipulated time of 9 am to midday, were the ruling New National Party (NNP) and the main opposition National Democratic Congress (NDC).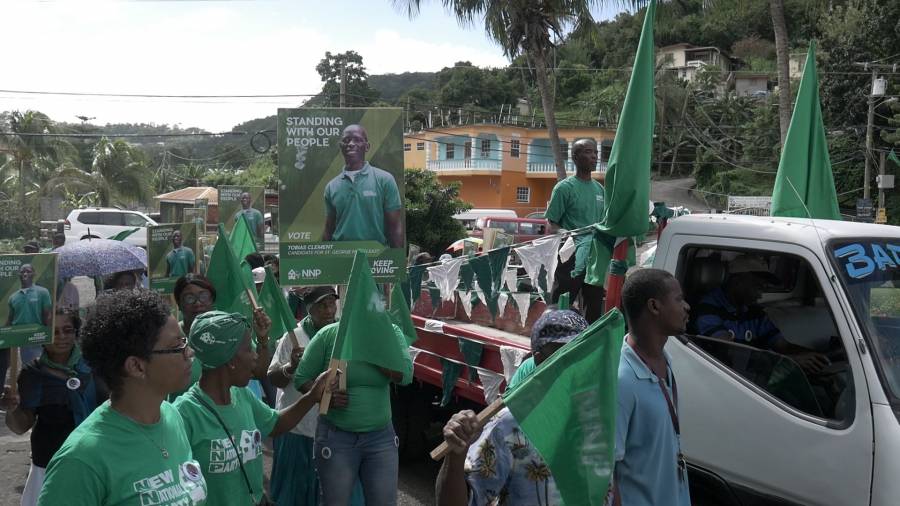 Nomination Day Report:
The National Democratic Congress (NDC) and the New National Party (NNP) nominated 15 candidates each
Grenada Renaissance Party (GRP) nominated 5 candidates
The Progressive Party (TPP) nominated 3 candidates
Grenada Empowerment Movement (GEM) nominated 2 candidates
Grenada United Patriotic Movement (GUPM), The Liberal Party (TLP) and Grenada Progressive Movement (GPM) nominated 1 candidate each
There were 2 independent candidates
Constituency
Candidate
Party
Carriacou and Petite Martinique
Tevin Andrews
NDC
Kindra Stuart
NNP
Kerry Velon Simmons
TPP
St Andrew South East
Patrick E Simmons
NDC
Emmalin Pierre
NNP
St Andrew South West
John Richard Arnold Fletcher
Independent
Sylvester Quarless
NDC
Yolande Bain–Horsford
NNP
St Andrew North East
Terry Glenroy Hillaire
NDC
Kate Skeeter Lewis
NNP
St Andrew North West
Phillip Reginald Alexander
NDC
Delma Thomas
NNP
St David
Adrian Augustine Thomas
NDC
Oliver Thomas Joseph
NNP
Junior M Francis
GRP
Joslyn Raphael Whiteman
Independent
Town of St George
Claudette Joseph
NDC
Peter David
NNP
Venescia Francis–Banfield
TLP
St George North East
V Nazim Burke
NDC
Tobias Clement
NNP
Earl J Maitland
GEM
Martin Washington Edwards
GRP
Basil Williams
TPP
St George North West
Ali Anthony Brian Dowden
NDC
Keith Claudius Mitchell
NNP
Oswald Roger Peter
GUPM
St George South East
Franka E R Bernardine
NDC
Gregory Clarence Bowen
NNP
Rosemarie Rohilia Rajwant
GEM
Dennyka Checkley
GRP
Kevin Marlon B Peterkin
TPP
St George South
Philip Raymond Roberts
NDC
Nickolas T C Steele
NNP
Terrance A C Forrester
GPM
Nyasha A R Paul
GRP
St John
George A E Vincent
NDC
Alvin M DaBreo
NNP
St Mark
Jerome Augustine Thomas
NDC
Clarice V Modeste-Curwen
NNP
St Patrick East
Cecilia Ann John
NDC
Pamela Moses
NNP
Oral James Roberts
GRP
St Patrick West
Joseph Andall
NDC
Anthony Boatswain
NNP
NOW Grenada
is not responsible for the opinions, statements or media content presented by contributors. In case of abuse,
click here to report
.