With cases of Hand, Foot and Mouth Disease (HFMD) continuing to rise globally this year, Grenadian Health officials are reminding parents and operators of daycares and kindergartens, that frequent hand-washing and cough etiquette is still the number one defense against the diseases.
The Ministry's acting Chief Medical Officer, Dr Francis Martin, said HFMD is "generally mild." He told the GIS that at present the official reported case-count is 6.
Over the last 20 years, there were no reports of a severe case or death due to the disease, according to official records. On 1 October this year, the Ministry made its first official statement regarding the HMFD outbreak that was reported in Jamaica and the Cayman Islands.
According to the acting CMO, health officials have been in touch with a number of early childhood development centers. He confirmed that the Ministry of Health developed and produced a leaflet on HFMD that was sent to those centers.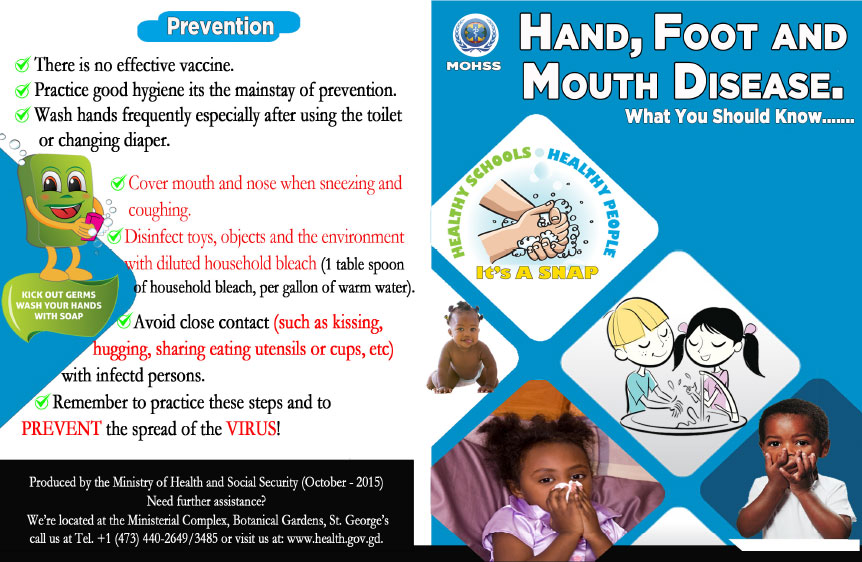 HFMD is endemic in Grenada and is legally notifiable, i.e. medical practitioners, childcare centres, kindergartens and schools with HFMD outbreaks must notify the Ministry of Health.
---
HMFD PROFILE
Definition & Characteristics:
HFMD is a viral infection caused by a group of enteroviruses, most commonly the Coxsackie virus.
The incubation period of HFMD is 3 to 7 days (with a range from 2 days to 2 weeks). Both adults and children can be affected, but young children below 5 years old are more susceptible.
How Is It Spread:
HFMD, which affects mostly children, is spread via bodily fluids like saliva. HFMD is spread from person to person by direct contact with the nasal discharge, saliva, faeces, and fluids from the rash of an infected person.
A person infected with HFMD is most contagious during the duration of the illness. It is easily transmitted among toddlers, making child development centers like (pre-schools/day-cares) hot spots for the spread of the disease. HFMD is usually mild and self-limiting.
Although the virus may continue to persist in the stool for several weeks after infection, the person generally becomes much less contagious when the illness resolves. Nonetheless, good personal and environmental hygiene must continue to be maintained.
Symptoms:
A child with HFMD may suffer from some of these symptoms: fever, sore throat, mouth ulcers on the inside of the mouth or sides of the tongue, rash (flat or raised spots) or small blisters on palms of hands, soles of feet, and/or buttocks, lethargy, poor appetite, vomiting and/or diarrhoea.
Treatment:
There is NO specific treatment besides relief of symptoms. Treatment with antibiotics is not effective and is not recommended. There is NO HFMD vaccine currently available.
What to Do If You Have HFMD:
If you suspect your child to have HFMD, please seek immediate medical attention.
If there are any changes in the child's normal behaviour, e.g. irritation and sleepiness, refusal to eat/drink, persistent vomiting or drowsiness, bring your child to the Accidents & Emergency Departments, or health facility, whichever is nearer.
If your child has HFMD, help to minimize the spread of HFMD to others by:
Properly disinfect articles such as toys, tables, books, door knobs or appliances contaminated by nasal or oral secretions.
Covering the mouth and nose when coughing or sneezing. Not sharing food/drinks, eating utensils, toothbrushes or towels with others.
Having good hygiene practices such as: Frequent and proper hand-washing e.g. after going to the toilet and before eating.
Keep your child at home and away from public places and look out for signs and symptoms in other family members.
Informing your child's school, kindergarten or childcare centre immediately, so they can monitor other children closely and take additional precautions.
FOUR TIPS to ensure that your child is fit for school:
Check for runny nose and fever (to take temperature)
Check for blisters on hands and arms
Check for mouth ulcers
Check for blisters on soles of feet, legs and/or buttocks
These Infection Control Guidelines are clinically proven.
GIS
NOW Grenada
is not responsible for the opinions, statements or media content presented by contributors. In case of abuse,
click here to report
.