Grenada Amateur Swimming Association: The 24th OECS Swimming Championship was one of the most intensely contested to date. This Championship was the wettest with consistent heavy rains on Saturday, but the rain did not discourage the swimmers, whose second home is water, after all.
It was the largest Championship gathering so far, with swimmers from five OECS countries. This strongly contested Championship, came to an exciting end with St Lucia defeating 12 time OECS Champion Grenada by 83 points. St Lucia won with 1,403 points to Grenada's 1,320, Antigua & Barbuda on 1,244.5, St Vincent and the Grenadines were 4, with 657 and the British Virgin Islands 185.5.
St Lucia had no easy swim down the lane as they were edged by both Grenada and Antigua, and the trophy could have sailed in any of the three waters. Grenada fought a great fight over the weekend, without one of the two 13–14 Champion Kerry Ollivierre, who had to drop out of the Championship due to injury.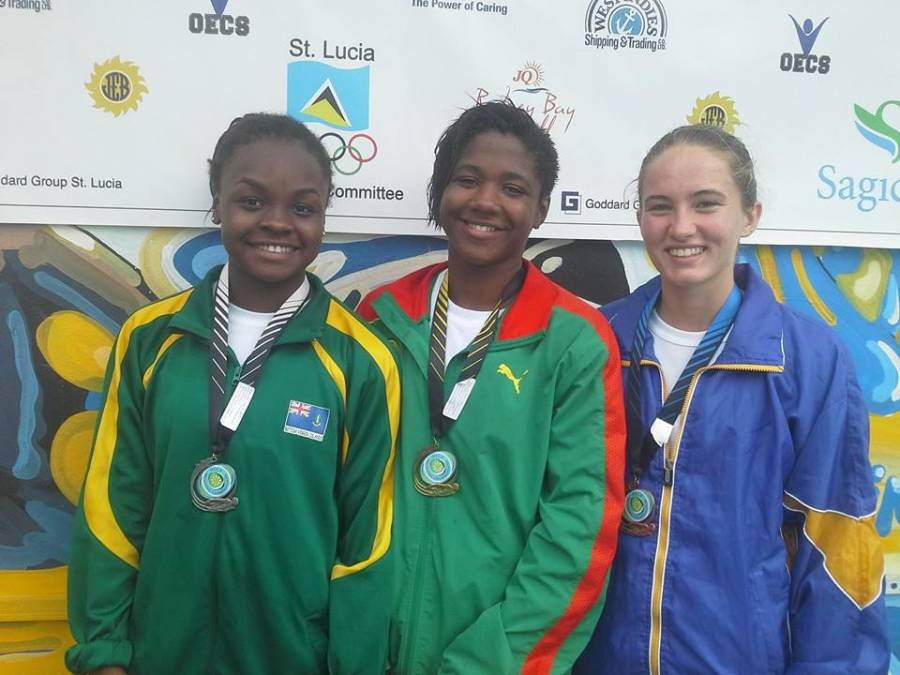 Grenada captured 3 age group championship trophies amassing 111 medals (31 gold, 43 silver, 37 bronze) and St Lucia with a total of four trophies with 119 medals (46 gold, 36 silver, 37 bronze). Grenada's Oreoluwa Cherebin and Noah Mascoll Gomes of Antigua were the stars of the Championship, capturing the Female/ Male Overall Trophies.
Top performers for Grenada were Oreoluwa Cherebin (girl's 15–17), Kevlian Andrews (women 18 and over) and Jenebi Benoit (boy's 9-10) who were awarded age group trophies. These 3 were a force to reckon with and were unbeatable in their age groups. They led the pool in 98% of their races and had their competitors racing hard after them. Three of the most competitive divisions though were the boys 9-10 and 13–14, girls' 15–17 and the 18 and over male and female.
Parshawn Haynes of Grenada kept on the heels of St Lucia's D'Andre Blanchard, posting personal best times in all his races, while capturing several silver and bronze medals. He captured the second place overall in the boys 8 and under age group. His team mates, newcomers Joshua Wilson Dumont and Kean Hoschtialek were in good form with impressive swims. Joshua captured two medals and they all swam their hearts out posting many personal best times.
The Grenadian girls 8 and under led by Gabrielle Hyson, newcomers Arian Clouden and Anika Charles, were outstanding — all medaled and posted personal best times. These girls had amazing swims and gave their all swimming very strong for their country.
In the 9–10 boys, Jenebi Benoit, aided by his team mate Jaydon Hyson, kept the 9–10 boys trophy from the shores of St Vincent Champion Alex Joachim, with some awesome swims.  Jenebi was beautiful in his strokes and swam like the champion he is. He was awarded several gold and silver medals. Jaydon also swam away with some silver and bronze. Newcomers Iyanu Antoine and Zackary Gresham were an asset to the team posting personal best times.
In the girl's 9-10, Kimberley Ince, Meeka Ollivierre, Mia Neckles and Kaiya Ramdhanny had a tough fight from Antigua's Olivia Fuller and St Lucia's Shalini Joseph. Kimberley won one gold, several silver and bronze medals. Meeka Olivierre also medaled in the Breast. The girls all posted personal best times and captured bronze in their two relays. These girls swam their hearts out.
Boys' 11–12 was led by D'Andre Stephen won two bronze medals, supported by Thabo Antoine and Tyler John. All three boys had fantastic swims which resulted in personal best times. The girls 11–12 Mayana Davidson and Geval Antoine swam well and were awarded with some personal best times.
In the boys' 13–14, Grenada's Delron Felix dethroned Antigua–Barbuda's Noah Mascoll–Gomes in the 50 Freestyle with  anew record of 24:59 sec, being the first boy in the OECS  Swim Championship to go under 25.00 sec in that age group. Delron also set a new record in the 200 Freestyle with a time of 2:02.12 min. This is even more impressive as he still has one more year in that age group. Darvin Clouden, who replaced injured Kerry Ollivierre, is to be commended for putting up a valiant fight together with team mate Dejanel Williams both posting several personal best times.
The Girls 13–14 represented by Mia Benjamin, Gabrielle Paparo and Simone La Qua all had personal best times and won individual medals as well as bronze in two relays.
Oreoluwa once again dominated the girls 15–17 Age Group with some magnificent swims medaling in all her races while accumulating six OECS Records: 50 Freestyle (27.90sec), 200 IM (2:33.97 min), 100 Freestyle (1:01.47 min), 100 Breast (1:19.62), 50 Fly (30.42s), 100 Fly (1:08.08). She was aided by veteran Valorie Andrews who attained several personal best times.
The 15–17 boys gave a good showing. Corey Ollivierre won gold in the boys 50 Fly and silver in the 100 Breast, Justin Steele silver in the 50 Back and several bronze and Adrian Andall was quite outstanding with several personal best times.
Grenada's Kevlian Andrews dominated the women's 18 and over, and challenged by her team mate Ashleigh Mc Leish, was unstoppable  going straight to the podium capturing the division trophy, carrying  treasures of gold, silver and bronze medals away from the arms of St Lucia and Antigua. They made sure that the age group trophy remained in Grenada.
In the men's 18 and over, Andrew Hopkin teamed with Chris Regis, kept on the heels of St Lucia's Jordan Augier. Chris won the 400 Free and Andrew gave some fantastic swims with several second and third places. They were both awarded second and third place in their division overall.
TEAM RESULTS
1st
St Lucia (1403)
2nd
Grenada (1320)
3rd
Antigua (1244.5)
4th
St Vincent (657)
5th
BVI (185.5)
Age Group Division First Place
Jenebi Benoit
9–10 boys
Age Group Champion
Oreoluwa Cherebin
15–17 girls
Age Group Champion
Kevlian Andrews
18–and–over women
Age Group Champion
Age Group Division Second and third place
2nd Parshawn Haynes
8–and–under boys
2nd Kimberely Ince
9–10 girls
2nd Ashleigh Mcleish
18–and–over women
2nd Andrew Hopkin
18–and–over men
3rd Jaydon Hyson
9–10 boys
3rd  Delron Felix
13–14 boys
3rd  Chris Regis
18–and–over men
NOW Grenada
is not responsible for the opinions, statements or media content presented by contributors. In case of abuse,
click here to report
.