The GrenAIDS project is providing reproductive health education and assisting with the enhancement of 3 special education school playgrounds, presenting these schools with a total of $8,900 on Thursday, 7 July, during a handing-over ceremony at the Ministry of Education and Human Resource Development, at Tanteen, St George.

The Grenville School for Special Education received $1,500; the Victoria School for Special Education $3,100; and $4,300 went to the Grenada School for Special Education. The funding for improved playgrounds is intended to provide differently abled students with a more holistic experience at school.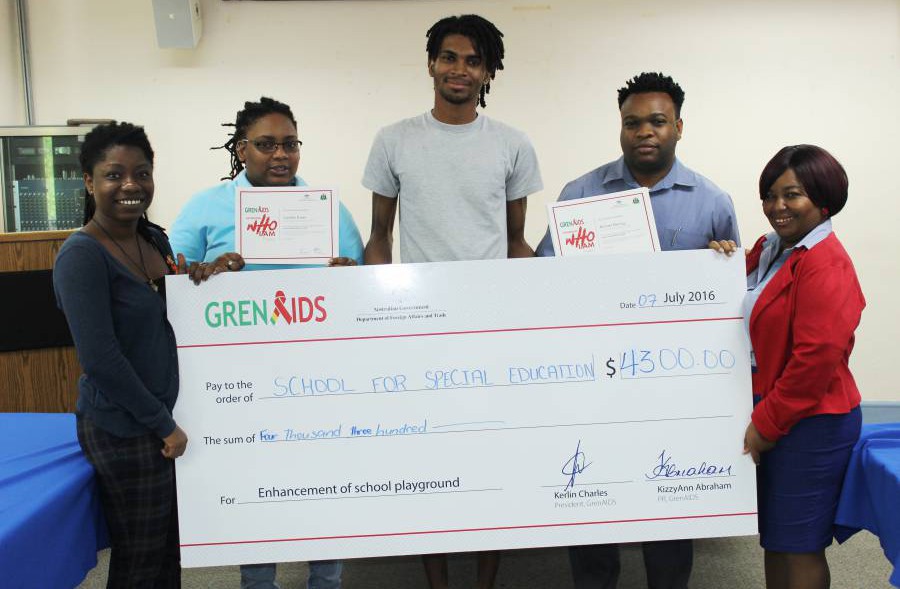 The 3 schools also recently benefited from the GrenAIDS-run program, 'Affirming Who I Am', which provided psycho-educational sessions on sexual and reproductive health, to 72 differently-abled students who were 10 years of age and older.
KizzyAnn Abraham, GrenAIDS Public Relations Officer, said "In societies, like our own, where resources to conduct sexual and reproductive health programs are scarcely allocated, marginalized groups are often ignored, and as such, do not receive the information that can empower them to manage their reproductive lives."
On 25 September 2015, the United Nations adopted the Sustainable Development Goals, which are a set of 17 goals aimed at transforming the global community within the next 15 years. They aim to eliminate poverty, discrimination, abuse and preventable deaths, address environmental destruction and aid sustainable development for all. The third of these goals calls for access to universal health care, reducing global maternal deaths and ending the AIDS epidemic by 2030.
'Affirming Who I Am' supports goal 3 and was presented by 12 facilitators, who had completed a trainer of trainer's course on sexual and reproductive health education. They used games, discussion, drama and singing to deliver the programme. The sessions began in May 2016 and concluded in July.
Abraham said "Persons with a disability have a human right to be protected from sexual abuse, yet a great majority will experience sexual violence, regardless. Safeguarding this right can only be achieved if we strengthen their overall autonomy and encourage health seeking behaviours."
She also noted that reproductive health problems are a leading cause of ill health for women and girls of childbearing age, in developing countries.
This project is funded by the Australian High Commission, through GrenAIDS, in collaboration with Ministry of Education and Human Resource Development's Special Education Unit. Abraham thanked all related stakeholders involved for their contributions to 'Affirming Who I Am' and the Australian High Commission for the donation to the playgrounds.
Ministry of Education
NOW Grenada
is not responsible for the opinions, statements or media content presented by contributors. In case of abuse,
click here to report
.