The Willie Redhead Foundation (tWRF) participated in the first conference of the Caribbean National Trust and Preservation Societies, from 8-12 May, hosted by the Barbados National Trust at the Savannah Hotel, on the Historic Garrison at Bridgetown, Barbados. 
Other regional participants were: St Kitts, Dominica, St Lucia, Bermuda, Belize, Trinidad and Tobago, St Vincent and the Grenadines, Curacao, Aruba, St Eustatius and Montserrat. Also in attendance were representatives from UNESCO, the International National Trust Organisation of Britain, British Columbia, Canada Heritage Trust. Ian Sanchez of Charleston South Carolina USA, gave the feature address entitled "Restoring Prosperity: Economic and Social Benefits of Preserving Natural and Cultural Assets in Barbados and Carolina."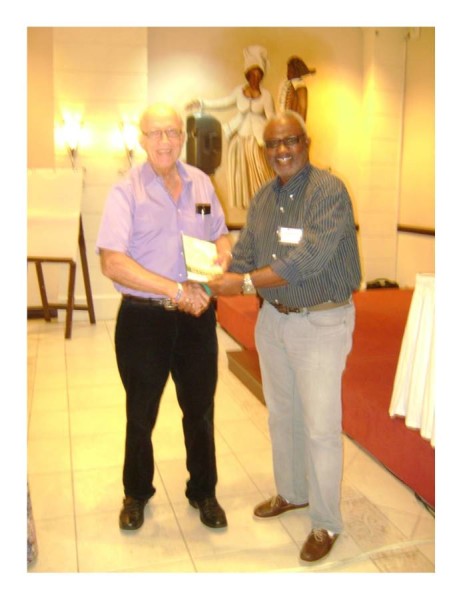 Tim Byam, President of Willie Redhead Foundation (tWRF), presented a copy of Norris Mitchell's "Dynamics of Urban St George" to Senator, Professor Emeritus Hon Henry Fraser, President of the Caribbean National Trust. Fraser spearheaded the Barbados conference, which was inspired by the 1972 World Heritage Convention, a convention which has successfully stimulated international cooperation. Its preamble states:
"In a society where living standards are changing at an accelerated pace, it is essential for man's equilibrium and development to preserve for him a fitting setting in which to live, where he will remain in contact with nature and the evidence of civilization bequeathed by past generations, and that to this end, it is appropriate to give the cultural and natural heritage an active function in community life and to integrate into an overall policy the achievements of our time, the values of the past and the beauty of nature."
In this final declaration the conference affirmed the following:
To support all measures designed to protect, preserve, restore and utilise our natural and built heritage in a sustainable way, for the social, cultural and economic benefit of all people of the region.
To collaborate through sharing information and expertise between countries.
To protect our marine space and its biodiversity therein.
To collaborate with international agencies and potential funding bodies in achieving the goals of preservation.
To collaborate and to promote the recognition of deserving sites as UNESCO World Heritage sites.
To work unceasingly through discussion, public education of our populations and partnership with our governments to save our heritage for future generations.
To act with alacrity, in partnership with governments, to maximize the economic opportunities related to our heritage, for the benefit of our challenged economics.
To commit to strengthening our collaboration and to meet regularly to best achieve these goals.
The presence of tWRF at the conference, further underscores the urgent need to have our government – especially the new Minister for Culture Senator Brenda Hood – join with us and other like-minded organisations to achieve expeditiously, goals in the interest of an overall national development policy.
NOW Grenada
is not responsible for the opinions, statements or media content presented by contributors. In case of abuse,
click here to report
.