by Curlan Campbell 
Sickle Cell Disease is a group of inherited red blood cell disorders
Grenadian Dr Walter Clement Noel was first patient in the world to be diagnosed
National Sickle Cell Week from 18-24 June

The impact of living with Sickle Cell Disease (SCD) in Grenada goes beyond high medical costs and limited access to proper medical treatment but also includes other psycho-social effects not considered by people not living with or directly affected by the condition. 
Sickle Cell Disease is a group of inherited red blood cell disorders where the red blood cells become rigid and have a crescent-like shape instead of the standard disc shape. This condition can cause red blood cells to become trapped and unable to circulate in the body. The sickle cells die prematurely, which causes a constant shortage of red blood cells. Due to the major function that red blood cells play in bringing oxygenated blood to the body's major organs, sickle cell patients experience several complications, including chronic pain, shortness of breath and other severe health complications. 
Let's consider something as simple as accessing health insurance, a luxury and necessity of life that sickle cell patients cannot enjoy. In Grenada, patients are without health insurance because an insurer will not cover the disease, like other chronic illnesses. Insurance companies view this type of coverage as high-risk to the company because of the likelihood that patients are often claiming and the cost for healthcare payout far exceeds the monthly premiums paid; from a business perspective, life insurers will deny coverage. This reality is faced by sickle cell patients, who will only be eligible to receive life coverage that will protect their loved ones in case of death. This means that patients must fund their medical expenses by themselves or seek assistance from charity organisations. 
"To the best of my knowledge, health insurance is out of reach of those affected by SCD because insurance companies in Grenada refuse to insure affected persons by SCD, and sometimes even refuse to insure the families of affected individuals," Dr Felicia Ikolo, Associate Professor, Lab Director, Department of Biochemistry, School of Medicine, at St George's University (SGU). "Based on the complexities of securing life insurance with sickle cell disease, what strategies can improve a patient's chances of getting insured? This is subject to discussions with and advice from insurance companies."
SCD patients also face the age-old stigma, stereotypes and assumptions relating to the disease, including that SCD is contagious and that SCD results from a curse placed on families, according to one patient who prefers to remain anonymous. 
"The greatest misconception, which the Sickle Cell Association of Grenada (SCAG) has partnered with various stakeholders to educate the public about, is the belief that sickle cell disease (SCD) is contagious," said Dr Ikolo. "With the public enlightenment campaigns, many persons in the Grenadian public are now aware that SCD is not contagious, and that SCD is a genetic disease due to mutations inherited from both parents."
Another common hurdle for sickle cell patients is that they can be easily perceived as weak, lazy or faking their symptoms, making it more difficult for people living with SCD to get the care they need and the support to help them cope.
The Sickle Cell Association of Grenada (SCAG) understands the barriers to healthcare and treatment for patients living with sickle cell disease and the significant financial toll that SCD, an inherited blood condition, has on patients, their families, and the healthcare system. The SCAG remains committed to finding solutions to many of the challenges patients face.
"SCAG presently hosts monthly children (birth to 18 years) clinic in St George's, and in St Andrew, however, there is presently no dedicated adult clinic for those affected by SCD. "This means that affected adults have to get treatment from the General Hospital, health centres or private clinics. This imposes some challenges of accessibility to prompt (urgent) medical attention. One challenge sometimes may be due to a lack of empathy from the healthcare providers, e.g. not administering painkillers urgently during painful crises. The cost of accessing such treatment and medications is quite challenging for many affected [people]," Dr Ikolo explained.
In this regard, the SCAG will be using National Sickle Cell Week from 18-24 June to raise awareness about sickle cell disease, sickle cell trait (SCT) and Grenada's special status in discovering this inherited blood disorder.  
The following are significant dates within this week:
19 June: World Sickle Cell Day, as declared by the United Nations General Assembly in 2008

21 June: National Sickle Cell Day, commemorating the birthday of Dr Walter Clement Noel
Dr Noel was a Grenadian born in 1884 and was the first patient in the world to be diagnosed with sickle cell disease in 1904 while studying dentistry in Chicago. He died in 1916. The headstone of Walter Clement Noel is located in the Catholic cemetery at Sauteurs, St Patrick.
An estimated 1 in 10 Grenadians is a carrier or has a trait of sickle cell, but many are unaware. The implications of this and the myths and misconceptions about SCD create additional hardship for those with SCD and their loved ones. To aid in the awareness campaign, the SCAG has prepared a list of Ten Basic Facts about SCD to make every Grenadian aware of the facts, including knowing whether they carry the gene for this inherited condition by conducting a simple blood test to determine whether one is a carrier.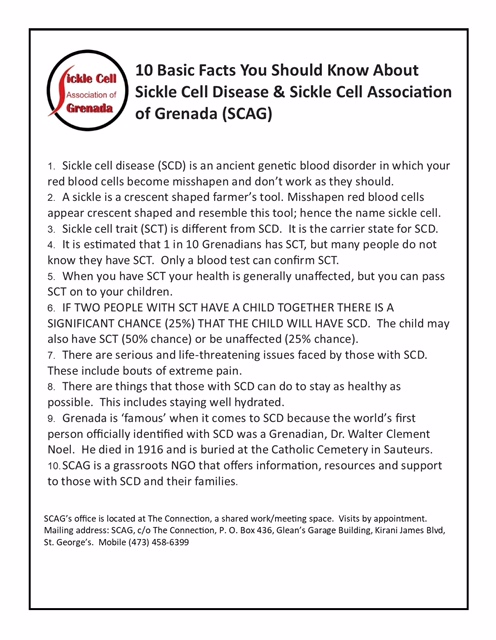 Dr Ikolo indicated that many people are apprehensive about getting tested for SCD because of a lack of knowledge and fear of stigmatisation and discrimination. Statistically, if both parents have SCT, there is a 25% (or 1 in 4) chance that any child of theirs will have SCD. There is the same 25% (or 1 in 4) chance that the child will not have SCD or SCT. However, there may be some light at the end of the tunnel. A new type of blood group genotyping can be used to more accurately match those needing transfusions of donated blood. This is quite useful since new blood group genotyping helps to ensure that the blood for transfusion is the best match for the patient.
It remains to be seen if people living with the condition in Grenada can one day access this type of treatment since this new test helps to identify more blood groups in people living with SCD and other anaemias. 
NOW Grenada
is not responsible for the opinions, statements or media content presented by contributors. In case of abuse,
click here to report
.