On this day in 1978 "the most feared Gairyite in the State," controversial police officer and political figure Innocent Belmar was shot at the Bamboo Bar, Birchgrove. He died the following day, a casualty of the political violence that had engulfed Grenada and in which he was a participant.

Belmar joined the Police Force in 1956, and in 17 years had worked through its ranks. Nicknamed the "Sheriff," Belmar was implicated in several violent acts against Premier Gairy's opposition in the 1970s. The most celebrated of these was the beating and arrest of the "NJM 6" on Bloody Sunday, and the wounding by gunshot of 2 known NJM supporters.
Belmar's power was curtailed when in 1975 the Duffus Commission report on police brutality in Grenada, recommended his dismissal from the police force. PM Gairy insisted that Belmar was "the best policeman Grenada has seen and known for a long time," and refused to take any action against him.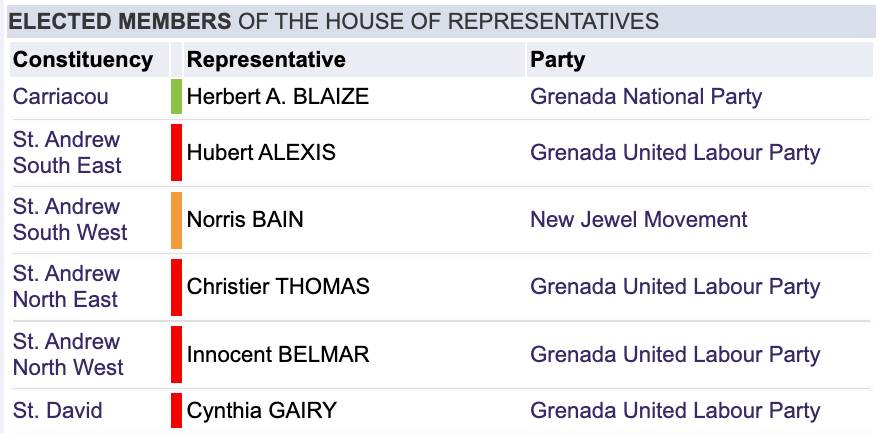 In the 1976 elections, he was elected to the House of Representatives as a GULP candidate and was a special advisor to the Prime Minister. He was appointed Minister of Agriculture on 3 January 1978, the same day he was shot. The shooting incident remains unsolved.
From A-Z of Grenada Heritage by John Angus Martin (Gully Press, Brooklyn, 2022)
Available in Grenada at Art & Soul Books, and online at Amazon.com
NOW Grenada
is not responsible for the opinions, statements or media content presented by contributors. In case of abuse,
click here to report
.