The tradition of Grenadian excellence in the world continues, with the art career of Grenada's own Asher Mains. To describe Mains as emerging seems insufficient to describe his rise to the international contemporary art arena. Having worked as an artist in Grenada for over 20 years, the last couple of years for Mains has culminated into him being one of the leading artists in the Southern Caribbean.

Mains has shown at the Gallery of Caribbean Art in Barbados since 2008, and locally at the Susan Mains Gallery in Grand Anse. Additionally, Mains' work was curated for Grenada's first official national pavilion at the Biennale di Venezia, the oldest and most prestigious biennale in the world. One curator described exhibiting work at the Venice Biennale as being on par with "being nominated for an Oscar in the art world." Since then, Mains' work has been shown in Brazil, Bolivia, Germany, and Switzerland, with upcoming exhibitions in Aruba, Colombia, and a few in the works for Europe and Asia. Mains has kept up a rigorous exhibition circuit while finishing a Master's in Fine Arts in Creative Practice from Transart Institute, accredited by Plymouth University in the UK.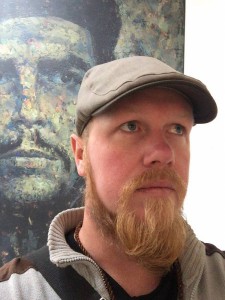 While Mains has been getting attention from international curators, his attention has been on local development and exploring how artists in Grenada can offer something unique to the international art world. In his thesis paper "Empathy of Place", Mains discusses how embracing our locality not only can lead to an honest, authentic artistic expression, but can also help a neo/postcolonial society invest in its own symbols and icons, as opposed to consuming products as a means of cultural production. Mains is the director behind Art School Greenz, a beta format art school in Grenada with the goal of minding the gap between secondary school and a contemporary art practice. Mains is also involved with the Grenada Arts Council and assists at the Susan Mains Gallery. Mains says, "One of the primary functions of art to me is to help people engage more fully with themselves and their reality. Art is about becoming a more complete human through the process. Grenadian artists have a unique position in the world and it is good for everyone if we can develop our artists and for Grenada to continue hitting high standards globally."
This August, Mains has been brought into St George's University's undergrad Arts and Sciences department to teach Intro to Fine Art. "Having the 16–week format will really allow students to be introduced to art history, theory, and a lot of studio time to have a good foundation for a future as an artist, art writer, curator, or one of the many other art-related professions," says Mains. Mains stresses that it is a priority to look at topics like art history from a non-linear perspective with a constant reference to how we contextualize topics from a Caribbean perspective. "The history of European art history is not the history of Caribbean art. There are many conversations both in art history and contemporary art that we can approach as Caribbean people where the West has little to contribute." It is an advantage for both the students and the university to have this kind of voice on their side.
Mains' "Intro to Fine Art", ARTS105 will be taught on Mondays from 5:30 pm to 8:30 pm at St George's University, Room B1A. For more information, contact registration at St George's University.
NOW Grenada
is not responsible for the opinions, statements or media content presented by contributors. In case of abuse,
click here to report
.