The 4th Annual Grenada Parish Outboard Fishing Competition was held on Monday, 19 January 2015. The tournament which has received remarkable support from the fishing community since its inception in 2011, had a truly outstanding record turnout for this year's event.

Compared to previous years, the tournament saw one hundred percent (100%) increase in participation from 40 to 80 boats!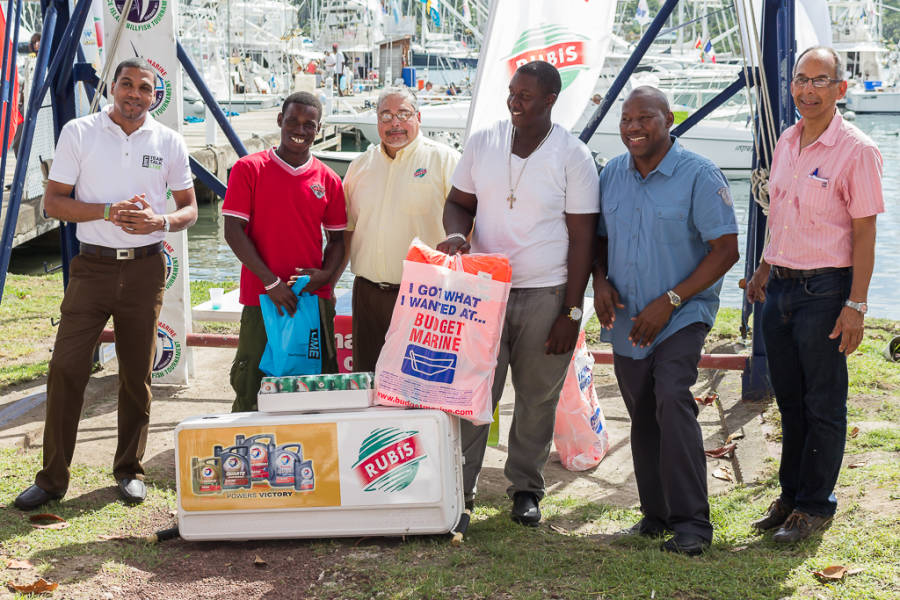 This year's prizes included safety gear from Budget Marine to outfit boats, a tablet and Bluetooth speakers from LIME, Coolers compliments RUBIS W.I., antifouling and Siscolac paints from Sissons Paints, and the grand prize of a Yamaha Enduro Outboard Long Shaft Engine valued at EC$9,300.00, jointly sponsored by McIntyre Brothers Ltd. and the Budget Marine Spice Island Billfish Tournament (BMSIBT).
Once again, the Ministry of Agriculture's Fisheries Division played a key role in the coordination of the tournament across our tri-island state. Boats from the various fishing parishes came out in their numbers to participate, with 18 from St George, 10 from St Mark, 7 from St John, 7 from St Patrick, 30 from St Andrew, 7 boats from Carriacou, and 1 from Petite Martinique, all vying to capture first place and the coveted grand prize!
Richard McIntyre, Chairman of the Budget Marine Spice Island Billfish Tournament, expressed his delight at the increased participation from the fishing parishes. "We are extremely pleased with the exceptional participation this year. It has long been our hope to develop a tournament of this kind for local fishermen. This is our way of giving back to the community and recognizing the important contribution of fishermen to the island. We are looking forward to an even greater turnout at the next event in 2016." he said.
Neil Roberts, joint coordinator of the tournament and member of the BMSIBT committee commented on the rules of the event. "This tournament was specifically designed to be a 'win-win' for fishermen as registration was free. Fishermen also got to keep their catch at the end of the day's fishing, which they can sell. Most importantly, participating boats with the highest overall aggregate weights were each awarded prizes for placing first in their respective parishes. Additionally, prizes were also awarded for the top three overall places; essentially there were more chances to win."
At the conclusion of the tournament's fishing, 'JeeZee', the single participating boat from sister isle Petite Martinique secured first place. Its owner, Howard Mitchell, earned bragging rights for the year as Grenada's Number 1 fisherman with a total aggregate catch weight of 864 lbs. His catch included Tuna, Mahi Mahi, and Amba Cavali fish. Placing second was Dennison George of the vessel 'No Wondering' from St Andrew with 608lbs. Third place was awarded to Nicholson McDonald of the vessel 'Little David' also from the parish of St Andrew with 403 lbs.
The Grenada Parish Outboard Fishing Competition, one of the newest additions to Grenada's calendar of events, will certainly remain one of the most anticipated tournaments on our island's calendar.
Results:
Top place boat for each participating parish
| | | | |
| --- | --- | --- | --- |
| Name | Boat | Parish | Aggregate catch weight |
| Dennison George | 'No Wondering' | St Andrew | 608 lbs |
| Timothy Cudjoe | 'Pussy Bumb' | Carriacou | 160 lbs |
| Howard Mitchell | 'JeeZee' | Petite Martinique | 864 lbs |
| Bertrand Noel | 'Uncle B' | St Patrick | 40 lbs |
| John Regis | 'Must Get That' | St George | 254 lbs |
| Mathew Waltris | 'Ants' | St Mark | 150 lbs |
| Garvy McPhie | 'Prince 3' | St John | 135 lbs |
| | | | | |
| --- | --- | --- | --- | --- |
| Position | Name | Boat | Parish | Aggregate catch weight |
| 1st Place | Howard Mitchell | 'JeeZee' | Petite Martinique | 864 lbs |
| 2nd Place | Dennison George | 'No Wondering' | St Andrew | 608 lbs |
| 3rd Place | Nicholson McDonald | 'Little David' | St Andrew | 403 lbs |
NOW Grenada
is not responsible for the opinions, statements or media content presented by contributors. In case of abuse,
click here to report
.