"Fruitful Days – My Political Soul Delivered" is the name of a book written by former OECS and Caricom Ambassador William Joseph. Grenadians will get the opportunity to obtain their copies at his book launch on 4 September at the Spice Basket.

According to the preface which is written by Victor Ashby, the centerpiece of this work is the generous sharing of decades of learning – formal and informal, experiential and spiritual – and the resulting deliverance of William's political soul.
Described as a must read, the preface said that 'Fruitful Days' is a deep, analytical exposition of Grenadian culture and socio-politico intrigues, wrapped up in astonishing enigma as uniquely experienced and potently revealed by Joseph.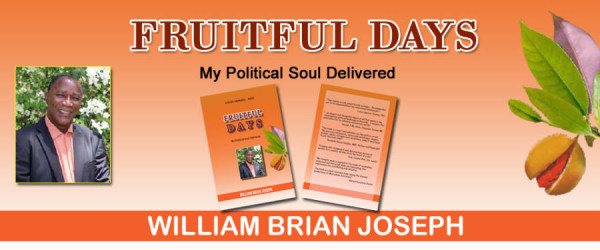 "A must read for all able Grenadians; students of cultural studies and sociology; political scientists, politicians and political activists; business people and development thinkers. Indeed, it is a substantial offering to students and teachers of English, protocol, linguistics and literary and poetic connoisseurs."
"The themes are so aptly woven into the plot that the reader should find it very difficult to put this book down after he/she has encountered the 'opening' salvo of the father hero's mentorship to family; the village canvas; the nurturing of William's virgin literary mind; his moulding at the indomitable GBSS; then onto a richly-composed and purpose-filled working life thereafter," said the former principal of GBSS, the Grenada Boys Secondary School.
Ashby says that Joseph has searched his childhood bank and recalls to mind his first public statement, "What can a little chap do for his country and for you?" Now, no longer a child, he speaks to the Grenadian public once more, only this time revealing the answer to the question that had been concealed for almost 50 years.
In his review Richardo Keens-Douglas, MBE, author and playwright said that whether a person likes politics or not, the sincerity and honesty, mixed with knowledge, insights, wisdom, advice, intrigues and revelations, make it very hard to put this book down. Former Speaker of the House and Member of Parliament George McGuire, said he respects this publication for its scholarly and historic worth.
Joseph is a former senior public servant who has served in various capacities including Permanent Secretary, Director of Tourism. He is, to date is the only person to serve as Chief of Staff in the Office of the Prime Minister.
By Linda Straker
NOW Grenada
is not responsible for the opinions, statements or media content presented by contributors. In case of abuse,
click here to report
.