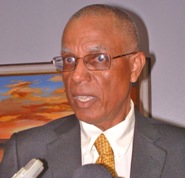 The Public Accounts Committee of Grenada's Parliament has agreed to meet monthly as a means to complete the examination of the Government's Audited Statement of Accounts for the years 2008 to 2012.
Audited Statement of Accounts for 2008, 2009 and 2010 are already with the Office of the Houses of Parliament but must be examined by the PAC before they are made public, while the accounts for 2011 and 2012 was promised to be presented before the end of 2014.
Under normal circumstances, the PAC is chaired by the Leader of the Opposition in the House of Representatives, but because there isn't an elected opposition in the Lower House the standing orders had to be amended to provided for a senator appointed by the Governor-General in the Upper House to be the Chairman of the PAC.
Members of the Public Accounts Committee are Senator Dr. George Vincent as Chair, while the other members are the three elected Member of Parliament who were not appointed as ministers of Government. They are Hon. Yolande Bain-Horsford, Hon. Tobias Clement, and Hon. Clifton Paul. Also in attendance at the meeting were the Acting Director of Audit, Mrs. Isha Abraham; and Mr. Samuel Louis Obike, Accountant-General.
A release from the Houses of Parliament explained that Public Accounts Committees are central to the effective performance of Parliaments of the Westminster Parliamentary Democratic type, and are elected at the start of each Parliamentary session.
"The PAC is mandated to hold the Government accountable for the proper management and administration of public funds. It performs this function by examining the audited accounts of Government Ministries and Departments and Statutory Bodies," said the release.
"The PAC has the authority to summon senior Public Servants and Managers of State Corporations to appear at Committee meetings. The public at large and the media houses may attend and report on the public hearings held by the Committee," the release said.
Before 2008, the PAC was allowed to examine statements which were unaudited, but this changed when the Tillman Thomas National Democratic Congress (NDC) administration was elected into office. The former Finance Minister Nazim Burke was of the opinion that only audited statements should be examined by the PAC. Without audited statements to be examined, the last meeting of the PAC was held in March 2011 when current Prime Minister Dr Keith Mitchell was the then Leader of the Opposition.
NOW Grenada
is not responsible for the opinions, statements or media content presented by contributors. In case of abuse,
click here to report
.