A Ministry of Health official has confirmed that on Wednesday morning, well known political activist Kem Jones, along with two other persons, delivered a letter to Permanent Secretary Mona Hagley at her office at the Ministerial Complex.

"Yes, I can confirm that the letter was received by our Permanent Secretary," said Communications Officer for the ministry, Keville Frederick.
Though the content of the letter was not made public before or immediately after presenting it to the health official, the action was preceded by a "peaceful march" from the National Stadium to the Ministerial Complex.
"This peaceful march will ask for the following: The resignation of Hon Clarice Modeste (Minister for Health) for her poor leadership and incompetence over the last couple of months; demand better healthcare now, and request that the Ministry of Health implement some proactive measures to protect Grenadians from ChikV and Ebola Virus," Jones said in his invitation notice which was posted on his Facebook account.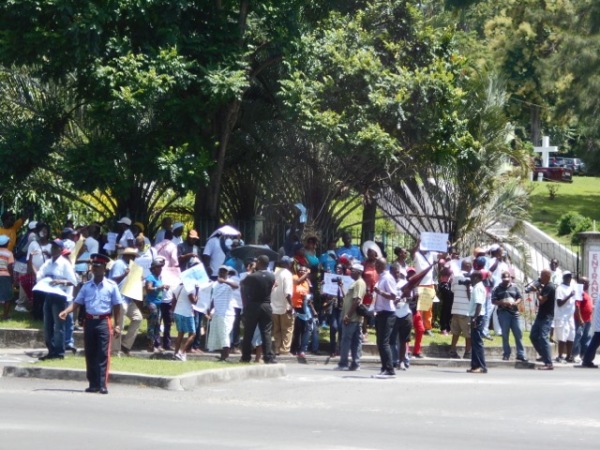 Less than 100 persons participated in the march displaying messages about what they described as the poor health system; the need for Government to do more to improve the system as well as calling on Health Minister Clarice Modeste to resign. "Your efforts were less than desirable, Please Go Now," read one of the placards.
The protestors were not allowed to enter the compound of the complex for security reasons, but the Royal Grenada Police Force (RGPF) permitted Jones and the two other persons to deliver the letter.
Grenada reported its first Chikungunya case in June. It was found on the sister island of Carriacou. Since then it has spread rapidly to the mainland. Data from the Caribbean Public Health Agency says that Grenada has had 24 confirmed cases and almost 2000 suspected cases, but it is well known that many persons who come down with the symptoms engage in self-medication and do not seek the service of a doctor.
During the month of September, the National Insurance Scheme (NIS) reported an unusual rise in the number of persons filing for sickness benefit with the main cause of Chikungunya. Since the disease was identified in December 2013 on the island of St Marteen, Grenada's health ministry has engaged in a number of activities, including the holding of 'Sweep Up' campaigns. Ministry officials have also announced that it will implement the Mosquito Destruction Act, a 1952 legislation, to help in combating and reducing mosquitoe breeding sites.
To date a few persons have received letters of warning, but no one has been brought before the court.
By Linda Straker
NOW Grenada
is not responsible for the opinions, statements or media content presented by contributors. In case of abuse,
click here to report
.