A CASE STUDY OF HOTEL INVESTMENT IN GRENADA
(What can go right; what can go wrong)
By
S. Brian Samuel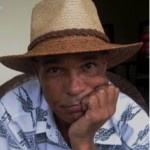 1. Introduction
I recently published an article entitled "Attracting Foreign Investment to Grenada" in which I noted some of the pitfalls to investing in Grenada. In the article I briefly mentioned the case of LaSource resort, to illustrate the use of fiscal incentives as a way of securing the Sandals chain investment in Grenada. On reflection, the story of La Source is worthy of a deeper look. The LaSource saga, for indeed it is a saga; with ups, downs and plot twists worthy of any soap opera; is a classic illustration of what that can go right — and wrong — with hotel investments in small Caribbean islands. I guess I am qualified to write the story; for I was there from before the beginning; until after the end.
2. Before the Beginning
In 1990 I was working in Barbados for the Caribbean Project Development Facility, an offshoot of the World Bank. My job was to raise financing for Caribbean businesses, and one of my earliest (successful!) projects was La Source hotel in Grenada, which was being promoted by a local developer called Leon Taylor. The first time I met Taylor, he wasn't in a particularly good mood, as he had become frustrated from having to deal with the financing agencies, one of them being the agency I worked for. He fixed his good eye on me and growled "What the f___ do you want?" or words to that effect! But things went steadily upwards from there, and I ultimately ended up raising US$15 million for LaSource, in debt and equity financing from a consortium of development banks. That in itself was a long and winding road; including one memorable day when I finally cornered Leon into going over the final Business Plan for the resort, line by painstaking line – under a coconut tree on Sandy Island, during Carriacou Regatta!
In all my 20 years at the World Bank, LaSource remains my all-time proudest project — and there were quite a few contenders. For a start it reconnected me to Grenada, my home I never knew; and that feeling carried over into a sense of pride in a job well done, when I stood side-by-side with Leon Taylor on the gala opening night of LaSource in December 1993. When I retired from the World Bank and returned home in 2008, I worked as Executive Director of LaSource from its reopening in February 2008 until October 2010. So I know where a few skeletons are buried.
3. The Financing Package
One of the contributing factors to LaSource's early success was the way in which the project was financed. In those days, with Grenada still stuck in its post-Revo malaise, commercial banks weren't rushing to lend to startup Grenadian hotel projects, especially one where the owner wasn't a deep-pockets hotel chain with a ready-made market. So we went to the "alphabet soup" — the international development financial institutions who were active in the Caribbean, emphasizing the huge developmental impact that such a badly needed new hotel project would have on Grenada. This line of reasoning eventually prevailed, and we ended up with an impressive list of finance institutions on the starting line:
Caribbean Development Bank (CDB)
Commonwealth Development Corporation (CDC)
Caribbean Financial Services Corporation (CFSC)
European Investment Bank (EIB) — via the Grenada Development Bank (GDB)
FirstCaribbean International Bank (FCIB)
What was significant was the manner in which the long-term finance was contributed: via a mixture of debt and equity; resulting in a stronger balance sheet and a lower debt-to-equity ratio than would have been the case if all the financing was in debt alone. And, as we shall see later on, when the going gets rough, development banks tend to have a more supportive response than their commercial comrades.
With equity participation from the development banks, LaSource was built on a sound financial base, with 66% local shareholding coming mainly from the local developer Pointe Salines Developments Ltd (PSDL), headed by Leon Taylor.
4. The Incentives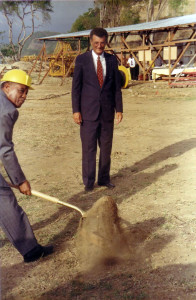 Another contributing factor to LaSource's success was the incentives awarded by the Grenada government. Grenada's incentive legislation was and still is governed by the antiquated 1950's Hotel Aids Ordinance; which basically provided for duty-free importation of capital goods, plus a few other fiscal incentives to hotel developers. In long negotiating sessions with then Finance Minister the late George Brizan, we argued that while the Ordinance gave incentives to build the hotel; it did not provide any incentives to subsequently operate the hotel profitably. In fact quite the contrary; with the plethora of taxes and charges levied on hotel operators in Grenada, it was a wonder that so many of them managed to limp along, by the grace of God and their bankers, from one crisis to another.
We argued that not only was it necessary that concessions reduce the hard costs of creating a hotel, but they should assist in maintaining the hotel's plant during the lifetime of the project, should allow for stable operating costs to keep the hotel competitive, and give protection from the almost yearly changes in Government fiscal policy that seemed to be the norm for the OECS, as these invariably increased the cost of operation.
Minister Brizan had the foresight to see the sense of our argument, and LaSource's concessions were detailed in a Code Qualification Certificate and Licence (CQCL); granting freedom from customs duties on capital and operating supplies; plus the imposition of any new taxes during the concession period.
This does not mean to say that LaSource did not pay its share of taxes; during operations LaSource was subject to the following taxes:
a)  10% on the resort's room rate
b)  8% on resort's food and beverage sales
c)   5% Customs Service Charge
d) 15% Income tax on the resort's audited net profit
The physical creation of LaSource was a challenging undertaking, as the site was a barren desert at the commencement of construction. It was devoid of vegetation and all infrastructure services on the site had to be brought in by the project developer. In fact one of the project's strengths was the extensive work done beforehand, including all design work, site preparation and landscaping: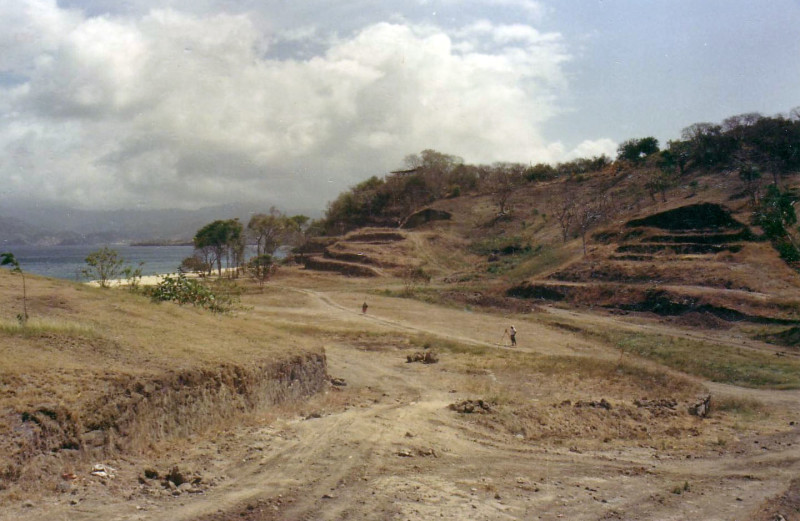 The original hotel site, after land preparation
5. Golden Years
LaSource was conceived and created as the sister of LeSport in St Lucia, under the joint management and marketing of Craig Barnard. Both resorts were unique all-inclusives, offering extensive spa and wellness packages, to complement the traditional Caribbean attractions of sun, sea and sand. Guests were offered something more; a holiday with a difference. One feature was that there would be no televisions in the guest rooms; people weren't to come to LaSource to watch television (and in fact nobody ever complained — except the Americans, but there were few of these).
After a settling-in period, LaSource quickly caught on; by the third year of operations, when the hotel broke even, the average year-round occupancy rate had risen to 72%, up from 54% in the first year. The company's Net Profit graph over its first 10 years looks like a textbook case of new hotel development: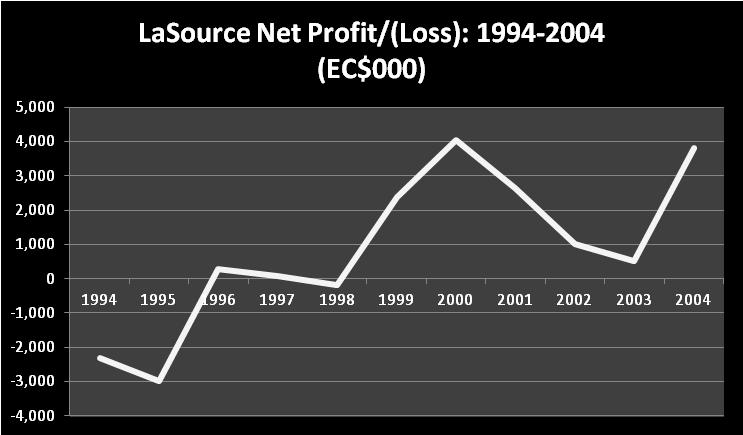 A rocky road – but generally in the right direction
Within 5 years of its startup, LaSource, was a very successful resort and became the flagship of the island's hotel sector. In the 6 years immediately prior to hurricane Ivan, LaSource achieved an average year-round occupancy rate of 78.3%, and that includes the mini-recession after 9/11. Although with 100 rooms LaSource accounted for only 8% of the island's guest rooms, at times LaSource was providing more than 20% of all hotel guests to the island. The resort was a cornerstone of airlift to Grenada, accounting for an average of 120 air seats weekly, drastically reducing the government's subsidies to airlines.
In its first 10 years, LaSource's brought more than 60,000 guests to the island, and spent EC$17 million in marketing itself — and Grenada. The hotel pumped over EC$150 million into the local economy, not including the spending of its guests outside the resort. But the one thing that struck me when I would visit Grenada from Washington, Africa or wherever I happened to be living at the time, was the staff. LaSource employed about 240 Grenadians, and unlike most hotels, did not reduce staff in the slow summer months, because there were no slow summer months. The best part of the hotel, as attested to by its legions of fans, was the staff, all of whom truly embodied "the best of Grenadian". I felt proud; Leon was proud; shareholders were happy.
6. Then Came Ivan
LaSource's management contract with Craig Barnard expired at the end of April 2004. It had served its purpose as LaSource was well staffed and firmly established in the market place, with a loyal repeat clientele, high year round occupancy rates, profitable and with little long term debt.
On 7 September 2004, hurricane Ivan struck Grenada. Thanks to the intelligence and quick thinking of the staff, no guests were injured, even though as usual the hotel was almost full. Like everywhere else on the island, LaSource was extensively damaged, and had to close for repairs and renovations.
The events that follow are still sub judice, so I shall try to be circumspect with my wording (it's not easy). LaSource was insured by three insurers, sharing the same policy: Insurer No. 1, the lead insurer, was responsible for 50% of the cover, while Insurers No. 2 and 3 equally shared the remaining 50%. Insurer No. 1 was responsible for adjusting LaSource's claim, and although their loss adjuster recommended an interim payment, Insurer No. 1 did the opposite and, some 9 months after the hurricane, completely denied liability. This forced LaSource to seek recovery by litigation. This litigation against Insurer No. 1 is still unresolved, 8 years later, and remains without a court date.
However, Insurers No.2 and No.3 accepted the loss adjuster's recommendations, and paid their 50% share of the claim; which allowed repairs works to commence. When I came home in October 2006 to renew my passport, I was surprised to find LaSource still closed, two years after Ivan. Taylor recounted his tribulations with Insurer No. 1; and I spent most of my "holiday" helping Leon and his brother Allan, putting together a funding application for a long-term loan of US$11 million, to complete renovations and reopen the hotel. Although the company was successful in raising the finance, it did not happen overnight; and ultimately LaSource was closed for a total of 41 months after hurricane Ivan. Most other resorts on the island had reopened within 18 months after the hurricane.
The actions of Insurer No. 1 in denying liability had a devastating effect on the hotel. The shareholders had to seek additional loan financing to cover the lost 50% of the claim. In addition, the inordinate delays resulted in increased overheads and slowing down of construction. Even worse, when the hotel eventually reopened; instead of having almost no debt, as it would have done had Insurer No. 1 paid the claim, the company was saddled with a crippling US$11 million long-term loan. What was significant about this second round of financing was that, unlike the initial financing of the hotel which was largely from development banks, this new loan had to be secured from a commercial bank, at commercial terms.
7. Reopened to Recession
Nevertheless, LaSource reopened on 1 February, 2008, with a four-and-a-half star rating and a vastly improved physical plant. Unfortunately this was too late to capitalize on the 2008/2009 Winter Season; and the hotel reopened with a mountain of construction payables still overhanging, since the funding was not sufficient to cover the cost of the delays.
Prior to reopening in February 2008, Taylor contacted Craig Barnard, to resume the management of LaSource. However despite Barnard's interest, this was not possible, as personal problems had developed in St. Lucia, which caused him to contract his management portfolio. 
At about this time, I had decided that 20 years with the World Bank was enough, and I was ready for a new challenge. So where did I find that challenge? LaSource, of course. On 1 April, 2008 (April Fool's Day) I took over as Executive Director at LaSource, in charge of finance and accounting — the money man.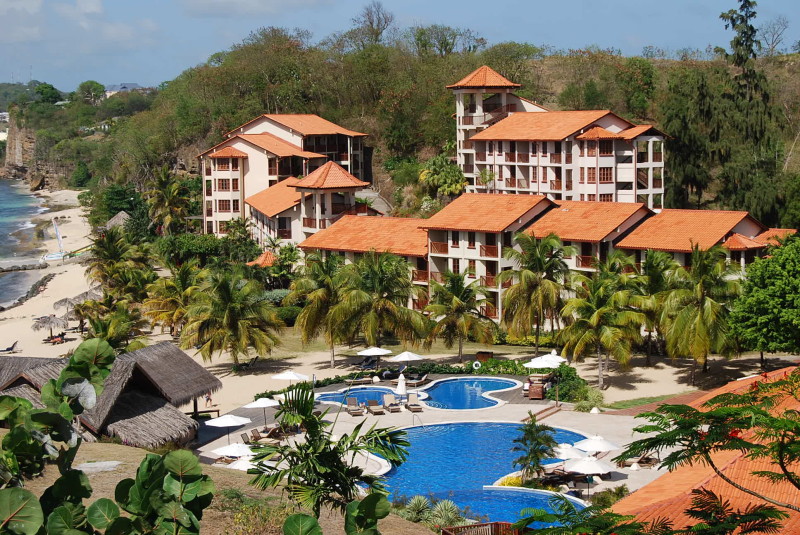 Re-opened LaSource, February 2008
Or rather: the no-money man. With the low occupancy rate at the restart plus a mountain of accounts payable left over from construction; we never had enough money. My life became a constant game of financial hide-and-seek: people would seek me out, and I would hide from them! However we persevered, and soon the results began to show. All the guests, most of whom were returnees from the pre-Ivan days, raved about the new LaSource, never failing to tell us how they were soo happy LaSource was back in business. LaSource was blessed with an incredibly loyal fan base, people would return three, four, sometimes five times per year. Don't these people have a life?
Occupancy averaged 85% in November 2008, traditionally LaSource's strongest month, and remained high during that first winter season, averaging 71.8% between December 2008 and March 2009. Things were looking up.
Then, what started as a blip in the sub-prime mortgage market in the USA suddenly ballooned into the deepest, longest global recession since the Great Depression of the 1930s. This was not the best time to be reopening a high endhotel with a high debt burden. After a promising 2008/9 winter season, occupancy rates plummeted that Summer and the following Winter, as the United Kingdom economy, source of 80% of LaSource's guests, contracted by 6.5% in just over one year. The last thing people were spending money on was expensive holidays (and LaSource, even with the giveaway deals we were forced to offer, wasn't "cheap").
LaSource was becoming dangerously stretched; the major shareholder PSDL advanced emergency funding of some EC$ 5.0 million, and applications were made to the bank for an increased overdraft to operate during the recession. "Bail out" funding was sought from the other shareholders plus the National Insurance Scheme (NIS). However, only the NIS responded, by providing EC$ 1.0 million in loan funding.
Things were improving — but slowly. The hotel would make money in the winter season, only to see it sucked out during the long dry summer. And, looming over everything like a dark could, were the loan repayments. Something had to be done.
8. The Americans are Coming
Something came in the form of the Elite Island Resorts Inc (EIR), headed by the enigmatic Rob Barrett. Realizing that drastic solutions were called for, Leon Taylor entered into a management and marketing agreement with EIR, with the blessing of our commercial bank. EIR made impressive promises; and indeed they had an impressive pedigree: owning and/or operating a string of successful hotels across the Caribbean.
After a few months of talking, planning and some tough negotiating, the contract was signed in June 2010; handing over effective daily control of the running of the hotel to Elite. It was some months later that I, for a variety of reasons, decided it was time to go my own way (I had heard "It's my way or the highway!" just once too often!); so although I was no longer involved in LaSource, Leon kept me updated with the comings and goings under the new dispensation.
9. Loss of LaSource's Concessions
LaSource's fiscal incentives were contained in a "Code Qualification Certificate and Licence" (CQCL), signed by the then Minister of Finance Nicholas Brathwaite on 10 May, 1991, extended to 31 December 2011. The CQCL states: "(3) Operating incentives during the concession period: (i) Relief from duty, VAT and other taxes on hotel consumables such as food, beverages, guest supplies, health beauty sport and water sports equipment and supplies…" This wording is explicit, VAT existed at the time, and was excluded as a subject tax, and indeed when the General Consumption Tax (GCT) replaced VAT in 1995, LaSource was not subject to this tax.
However, when in February 2010 the Government repealed the GCT and reintroduced VAT, and despite specific exemption from VAT in its CQCL, this tax was imposed on LaSource. The bulldogs in the VAT office refused to listen to LaSource's entreaties: everyone pays VAT. This caused a huge increase in the hotel's operating expenses, and a corresponding decrease in its net revenue. Because of the all-inclusive pricing of LaSource's package holidays, the hotel could not add on this unexpected tax to customers' bills; package rates had been set over 12 months before and could not be broached.
To make matters worse, when LaSource's incentives expired on 31 December 2011, the application to reinstate the CQCL was not approved by Cabinet until June 2012 and excluded freedom from VAT, so for the first six months of the year LaSource lost all its concession and had to pay full customs duty and VAT on all its operating supplies, added costs that were not budgeted for.
10. Death and Rebirth
Despite their extravagant promises, Elite didn't significantly improve LaSource's occupancy and room rates; and certainly not its bottom line, at least not enough to service loan repayment terms that were simply not achievable in the prevailing recessionary environment. Requests for a workout schedule capable of being serviced by LaSource were turned down. By the middle of 2012, Leon Taylor saw the writing on the wall, and had begun to hold discussions with the Sandals Group, as in three previous occasions this group had expressed an interest in acquiring LaSource. While these delicate negotiations were ongoing, it was becoming increasingly difficult for LaSource to meet the stringent loan terms and keep the hotel running. These two factors converged on 1 November 2012, when the bank foreclosed on LaSource.
However, this was a controlled demolition; concurrently with foreclosure, the Sandals deal was being finalized; subsequently announced at a gala event at LaSource on 7 November, 2012. Leon and I had a few chuckles that night; we had come a long way from the last LaSource opening ceremony, 19 years ago. The Sandals purchase allowed the company to meet its most important financial obligations: all employees received their termination payments, on time. All long-term lenders were paid off, and the large bulk of creditors were also paid off (arrangements are continuing with some). As for the shareholders, that's a different matter.
What caused LaSource to fail? I'm sure a lot of experts will have their own opinions on the matter (some unprintable no doubt), but allow me to suggest the major contributing factors:
The loss of Insurer's No.1 50% of hurricane Ivan insurance claim due to denial of liability, causing increased borrowing and extensive delays in opening the resort.
The hard cost of Insurer No. 1's actions totalled about EC$20 million in loss of insurance proceeds and added overheads, which had to be financed by bank and shareholders' funds.
LaSource reopened in February 2008 with a burden of EC$30 million in long-term debt; compared to debt of EC$ 3.4 million on the day of hurricane Ivan. Interest alone on this debt amounted to about EC$3.0 million per year; before taking into account loan repayments.
In the tourism industry, 2006 and 2007 were good years; yet thanks to the actions of Insurer No. 1; LaSource remained closed all that time; only reopening in February 2008 — a few months before the advent of the recession.
Loss of LaSource's concessions from February 2010, with the imposition of VAT, which significantly increased the resort's cost of operations and reduced its net revenues.
Inability of the lending commercial bank to agree to a loan rescheduling, as was done by the development finance institutions, a few years after the opening of LaSource back in 1993.
11. Conclusions
LaSource's experience with its hurricane Ivan claim demonstrates two major impediments to investing in Grenada. There is no procedure for resolving disputes between an insurer and insured in Grenada. An insurer simply has to deny liability, and the insured has no recourse to the Arbitration clause of the policy, because the insured repudiates the entire policy and just says "sue me". The only recourse is through litigation, and in a case like LaSource, which is not unique, the insured is placed at the mercy of Grenada's lethargic legal system.
Contracts are normally enforced by the country's legal system, which in Grenada appears to be in a state of near collapse. There is currently a backlog of some 200 cases, with only two sitting judges to handle the current cases and deal with the backlog. This explains why Grenada ranks so poorly in the World Bank's Doing Business Ratings; in enforcing contracts, Grenada ranks 162 of 180 countries.
Concessions are designed to protect investors, and once granted would be sacred. This was not the experience of LaSource in 2010, when one of the principal concessions listed in its CQCL, freedom from VAT, was taken away from the resort, causing significant increases in operating expense and decreases in net revenue. VAT was not a new tax. It was in force up to April 1995 when it was replaced by the GCT – neither of which LaSource had previously paid.
It is ironic that, to accommodate the acquisition of LaSource by Sandals, the government gave Sandals the very same concessions it had recently taken away from LaSource: freedom from VAT. In fact, the government was so desperate for Sandals to come to Grenada that they dug deep and gave them "something special", as described by Finance Minister Nazim Burke. The fiscal incentives eventually granted to Sandals LaSource included, inter alia:
29-year waiver of corporate taxes
25-year waiver of property taxes
25-year waiver of customs duties on capital goods
25-year waiver of customs duty on consumables
15 year waiver of Value Added Tax
Local investors who built "small" hotels like LaSource, at one time could count on financing from development finance institutions, such as EIB, GDB, CDC and CFSC, whose role was to finance private businesses in the OECS, and beyond. Sadly, the volume of development finance has declined over the years; and this needs to be rectified. LaSource's experience with commercial banks, in the post-Ivan period, was markedly different from its experience with development banks, prior to Ivan — particularly when the going got tough.
12. After the Fall
So once again, for the third time, Leon Taylor is living atop a construction site; except this time he's not in charge of what's going on beneath him. The number being bandied about is US$100 million; for the total investment Sandals is making, in the revamped and expanded LaSource. By the look of things, they are intent on spending that money as fast as they can — I've never seen Grenadians work so hard! If Sandals do not meet their aggressive opening target of 12 December, 2013; it will not be for want of trying.
Leon's house, which he built long before LaSource, has one of the most stunning views in Grenada: a vast panorama of half the island; a constantly changing tableaux of blues and greens. And — for now — dust. I asked him if it was painful, watching them tearing up his dream. Surprisingly, he said no; as a civil engineer now retired, he was perversely enjoying watching the proceedings with a detached eye, but he was feeling the loss of LaSource, like the loss of an old friend.
He said, however, his saddest moment came when he recently visited LaSource's Great House Restaurant and Piano Bar, to remove art work which he had installed in 2007. While walking through the site, he had a chance to have a close look at the enormous changes taking place. That, he said, was tough. But he was grateful to Sandals for allowing him to preserve these pieces of art, as they are of immense sentimental value to him
And so died a major Grenadian tourist institution; its loss lamented by the current Prime Minister in his speech welcoming the Sandals investment on 7 November 2012; also by hundreds of past workers and thousands of saddened repeat guests; who together made LaSource "The Amazing Holiday".
Regardless of how LaSource ended up, no one can deny that Leon Taylor and his fellow shareholders in PSDL achieved their objective: to create something of beauty and value to Grenada. LaSource leaves indelible footprints for Sandals to follow.
During its lifetime, LaSource received numerous awards for its quality of service, ranking it as one of the leading spa resorts in the world in. In a final twist of irony, LaSource was posthumously awarded Trip Advisor's 2012 "Travelers' Choice Award", signifying guest satisfaction in the top one percent of all hotels on Trip Advisor (out of over 700,000 hotels listed):
Can justice be finally, if belatedly, be rendered by the resolution LaSource's claim against Insurer No. 1? This must surely be the final chapter, in the Saga of LaSource.
© July 2013, S. Brian Samuel
[email protected]
1-473-420-1903
NOW Grenada
is not responsible for the opinions, statements or media content presented by contributors. In case of abuse,
click here to report
.