Over the past 2 weeks, dedicated researchers from Ocean Spirits and The Hawksbill Project joined forces to conduct their second annual sea turtle foraging population assessment in the waters around Carriacou.

Hawksbill sea turtles are critically endangered, and green sea turtles are classified as endangered on the IUCN Red List. These designations highlight the urgent need for their protection. Sea turtles are a shared resource, migrating between countries throughout the year, making it essential to understand their movements for effective conservation.
During 10 days of extensive research, the team surveyed 16 different locations, observed 51 individual hawksbill turtles in their natural habitat, and hand-captured 36 individual turtles. Each captured turtle underwent comprehensive biometric assessments and samples were collected by our sea turtle veterinarian Dr Kenrith Carter. All turtles were safely released after being externally checked.
Notably, 2 adult hawksbill turtles already had existing flipper tags, indicating that one originated from Barbados and the other from Trinidad. The largest turtle, with an 86 cm shell (3 feet), and the smallest, with a 29.9 cm shell (1 foot), were both captured by Benson Nicholas, a dedicated fisherman and researcher. Tevin Nicholas, another accomplished fisherman and researcher, achieved the deepest freediving capture at 18.2 m (60 feet).
The data collected during these 2 weeks of surveys are invaluable for researchers, conservationists, and governing agencies, enabling more informed decisions regarding sea turtle conservation and management. It's crucial to note that Grenada still maintains one of the longest open hunting seasons in the region for sea turtles.
Kate Charles, Marine Biologist with Ocean Spirits, expressed her pride in the project's success, saying, "Ocean Spirits' commitment to sea turtle conservation in Grenada spans over 20 years. We're excited to have expanded our tag-and-release research to Carriacou in 2022 and have now successfully completed our second year in 2023. The dedication and passion of our local researchers and boat teams are pivotal in improving sea turtle protection, making this project a resounding success. We extend our gratitude to the Carriacou volunteers who shared their local knowledge and contributed to our efforts."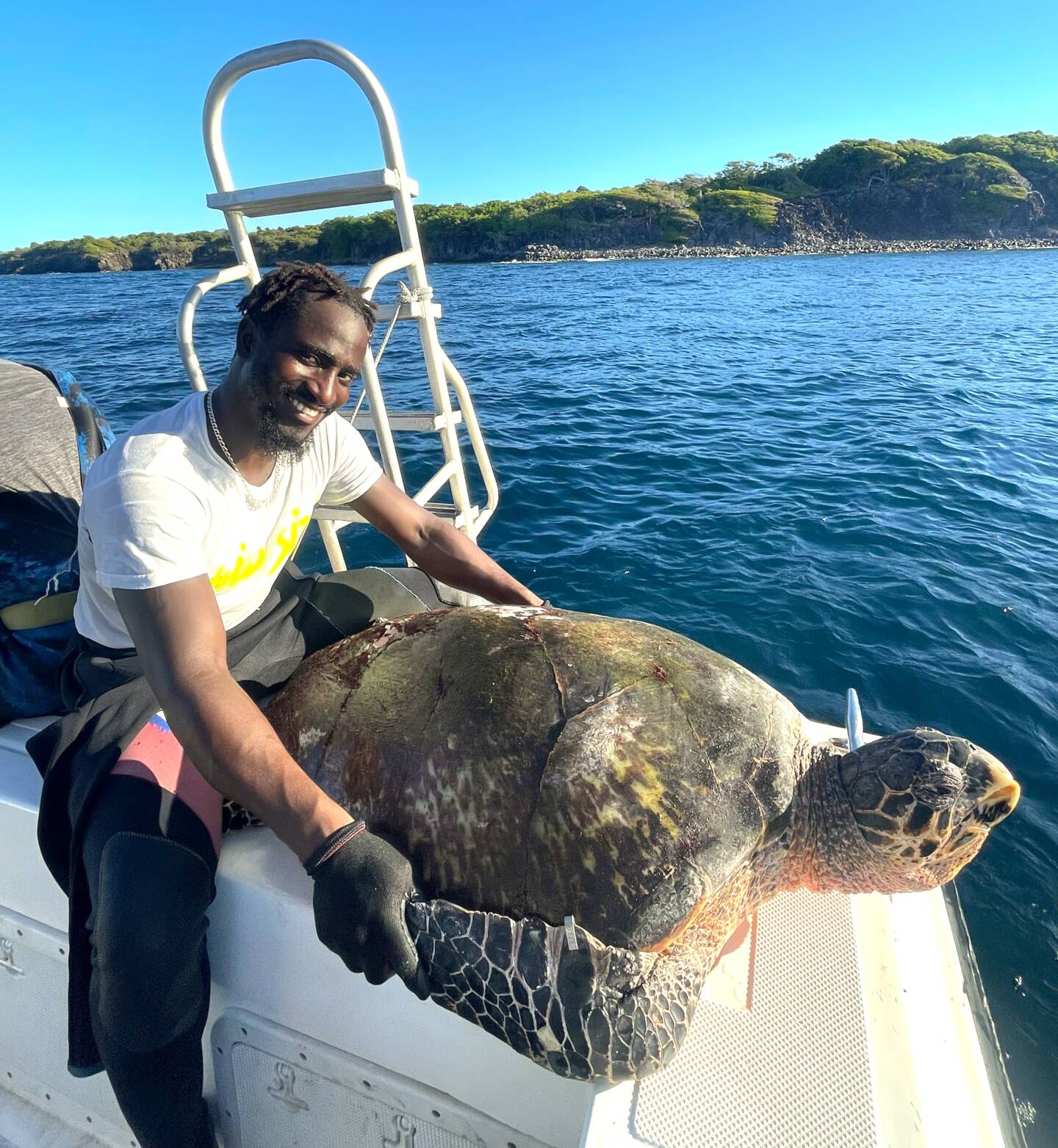 Dr Carter, a veterinary surgeon, sea turtle and wildlife veterinarian, highlighted the importance of the research, stating, "I'm always excited to work with hardshell sea turtle species in the water, especially the critically endangered hawksbill turtles. While I've been involved in research on their nesting islands, each opportunity to work with them in the water provides new insights and critical data for their future protection. This data reveals more about the migratory patterns of adult hawksbill turtles, further emphasising the need for year-round protection in Grenada. Our unique waters support all life stages of hawksbill turtles (new recruit, small to large juveniles, subadults and mature breeding and foraging adults), making Grenada a rare location for comprehensive research. Each time we work with hawksbill turtles we learn a bit more about them and their habits. Their resilience and ability to heal is amazing; we saw several turtles during our surveys that were missing a flipper and they were still able to migrate and swim fast."
The Hawksbill Project, a species-specific sea turtle conservation group, is dedicated to preserving critically endangered hawksbill turtles worldwide. The project's founder Scott Eanes formerly part of the Ocean Spirits team, expressed his commitment to Grenada, saying, "Ocean Spirits provided me with a solid foundation, and I felt a deep connection to Grenada. When I started The Hawksbill Project, I wanted Grenada to be the first country I supported due to its outstanding work and insights into sea turtle conservation. Now, we are expanding our knowledge of Carriacou's sea turtle populations and foraging grounds."
NOW Grenada
is not responsible for the opinions, statements or media content presented by contributors. In case of abuse,
click here to report
.