Invitation for Expression of Interest
Proposed dam upgrade and refurbishment
The National Water and Sewerage Authority (Nawasa) has commenced the implementation of projects under Component 3 of the Grenada Climate Resilient Water Sector (G-CREWS) Project, which is funded by the Green Climate Fund (GCF), through a local branch of the German Development Agency Deutsche Gesellschaft für Internationale Zusammenarbeit (GIZ) GmbH.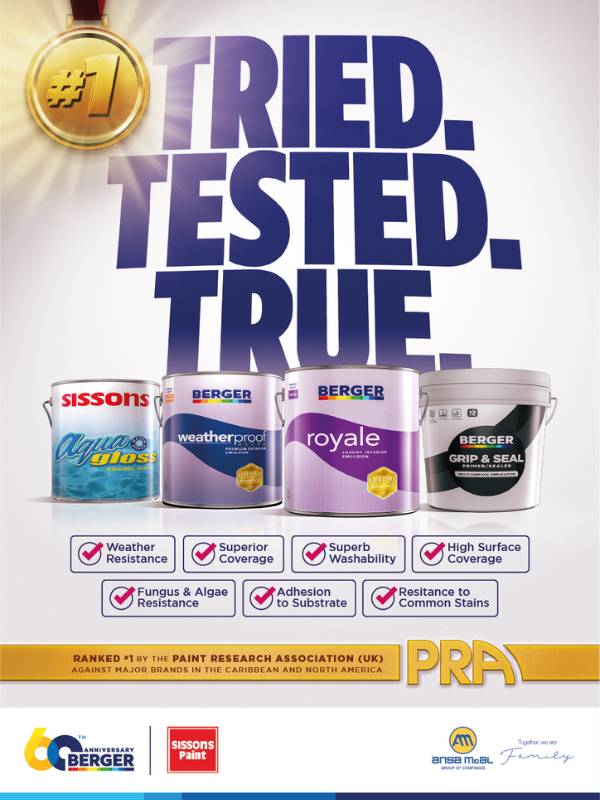 This project supports the integration of climate resilience into Grenada's water sector by improving Nawasa's water storage capacity, which will ensure sound and climate-responsive regulation of water resource management and will eventually lead to a strengthened institutional and regulatory system for climate-responsive planning and development.
This Request for Proposals aims to hire a qualified Firm to submit Expressions of Interest to execute a preliminary and detailed design for the refurbishment and upgrade of water storage dams, rehabilitation of existing dam structures, and hydro-mechanisms.
Under these activities, the main responsibilities of the consultancy are:
Collect all data required for the preliminary and detailed design documents. Review existing documentation, including feasibility studies from Nawasa, under the G-CREWS project
Produce and submit findings of project feasibility study. Include at least 2 options for each project site
Produce and submit project preliminary and detailed designs, including drawings, cost estimates, methodology, and schedules
Support Nawasa during the elaboration of work pages and the tendering process
Provide supervision services for the construction works to be implemented
Provide capacity-building instructional training for the operation and maintenance of the implemented infrastructure
Scope of the work
Main works for dams comprise the refurbishment and/or replacement of the dam gates in critical condition; improvement and refurbishment of In-take Retrofit Chambers; and upgrade of Rose Heads (chambers).
Other specific works are as follows:
Upgrade and improvement of the access roads
Cleaning of the vessel of the dam (heavily silted)
Installation of raw water line from the intake chamber (upgrade pipe sizes if needed)
Refurbishment of the ladders (access) to the dam
Refurbishment of the washout gates, increasing the dimensions where needed
Upgrade of dam wall, increase wall height to a minimum of one meter (where required)
Improve the design of the existing spillways against erosion
Installation of the washout pipeline (upgrade pipe sizes if needed)
Relocation of the Rose Head/intake structures (some being in the Dam)
Upgrade of bridge crossings (to achieve stability for heavy equipment access if needed)
Installation of silt traps
General requirements:
Interested Constructor/Firms shall provide their company's profile detailing the following:
Name of company
Registered business address
Copy of business registration certificate
Experience installing and refurbishing hydro-mechanisms and upgrading dam infrastructures
Core business of the company
Name of principal contact with appropriate authorisation
Contact e-mail address and telephone number
All submissions shall conform to the specified requirements mentioned above; otherwise, submissions may be disqualified.
Experience with regard to installation and refurbishment/replacement of dam gates and spillway designs and upgrading will be an asset.
Nawasa requests eligible bidders to submit their Expression of Interest to [email protected] no later than 4:30 pm (16:30 hours) Eastern Caribbean Time, on 24 November 2023.  Please make the subject line of your e-mail communication: "EOI – DAM UPGRADE AND REFURBISHMENT."
The submission address is indicated below:
The General Manager
Nawasa
Lucas Street
St George's
Bidders are advised that they are not required to submit any technical or price offer or any unrequested documents. Kindly note that the completed documents with all relevant information for the offer, will only be sent to qualified consultants, who have expressed an interest.
Nawasa will inform all companies that submitted the EOI after the evaluation process whether they qualify for the process.
Nawasa…. Committed to meeting customers' needs.
NOW Grenada
is not responsible for the opinions, statements or media content presented by contributors. In case of abuse,
click here to report
.