by NOW Grenada
Victoria Bridge to be renamed in honour of Petronella Ferguson
Ferguson was awarded the Stanhope Gold Medal in 1947

The 1946 Grenada Handbook Directory and Almanac summarised the event on page 91. 4 October 1945: FLOOD. Heavy rains led to the loss of 15 lives. 13 houses were washed away. Estimated damage £20,000 (£816,000 in 2018 currency, approximately EC$3,067,788.)
By contrast, Acts of Gallantry, Volume 2 compiled by WH Fevyer, provides more detail. Noted for "Being a detailed account of deeds of bravery in saving life, 1871-1950 for which the Royal Humane Society awarded the Silver medal and the Stanhope Gold Medal," one such account is of Grenadian Petronella Ferguson aka Ms Pet, of Victoria St Mark. The entry reads:
Ferguson, Petronella, Mrs Housewife, Windward Islands
Case 59718
Stanhope Gold Medal 1947
At Victoria, Grenada, Windward Islands, West Indies
About midnight on the 4th October 1945, there was a loudburst in the St Mark's District and many people were trapped in their homes by the flood water from the nearby river, which rose so rapidly that 12 houses in all were swept away and 14 lives lost in consequence.
Mrs Ferguson, who was in an advanced state of pregnancy, was in her house with her husband and son when it broke loose and was swept seaward by the flood waters, both the husband and son being drowned. While in the drifting house, she heard cries for help from a young girl, aged 13 years, unable to swim and clinging to a floating log.
Mrs Ferguson went to her aid and still swimming, started to push the log with the girl on it shoreward, as she thought. Later a flash of lightning revealed that they were heading seaward and were being carried out to the open sea by the flood waters. After about two hours swimming in the right direction, she brought the exhausted girl to the shore.
Mrs Ferguson herself then being in a state of collapse. In view of her condition at the time, her bravery was considered locally as deserving of the highest commendation.
The rescue was effected about 250 yards out in 30 fathoms (180 feet) of flood water."
Ferguson, a resident of Victoria, St Mark was awarded the 1947 Stanhope Gold Medal from the Royal Humane Society for her bravery and courage in 1945. The society awards medals, testimonials and certificates for acts of bravery in the saving of human life and for effecting successful resuscitations.
Ferguson was the second woman to be awarded the society's most prestigious award and had the privilege of meeting Queen Elizabeth The Queen Mother and Prince Phillip.
Her great-grandson Carl Curwen wrote that Ferguson was 8 months pregnant at the time of the event. "After recovering from the flood, Petronella opened a bakery to make ends meet, and people liked her bread a lot. She was described as a woman with a lot of wisdom and was admired by many in her community. She wanted her business to prosper, and as such, she worked hard for herself and her family. To the people that knew her, she was a good woman; some might say she was a great woman. I would agree. I think Petronella is a perfect example of a woman of vision and courage. I would be proud of her even if she was not my great grand ma."
In celebration of Petronella Ferguson aka Ms Pet, recipient of the Stanhope Gold Medal 1947, the Victoria Bridge will be renamed in her honour on Sunday, 22 April 2018.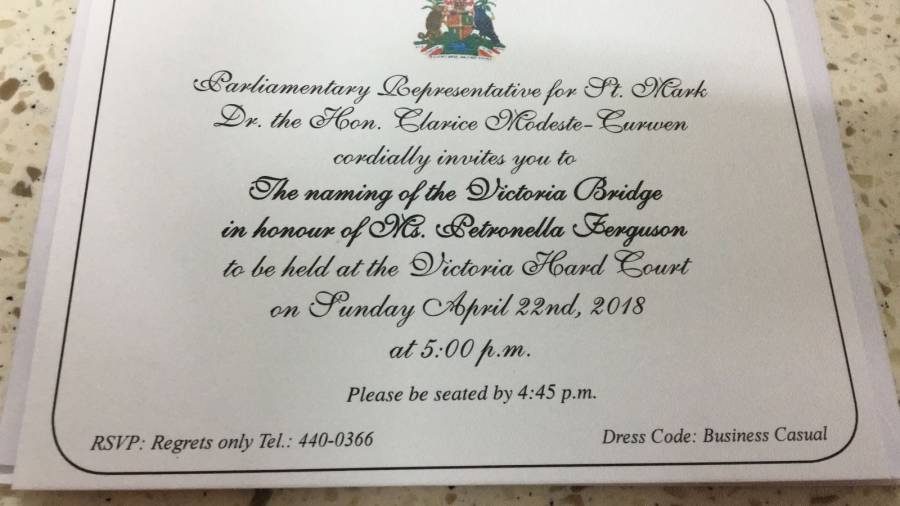 NOW Grenada
is not responsible for the opinions, statements or media content presented by contributors. In case of abuse,
click here to report
.