The unsightly heap of earth  is at Savon Swayzee, where one resident feels that soil removed from landslips after the heavy rain was simply dumped at the nearest convenient place — with no regard to the people who live there. As you can see, it came close to cutting off their access. Would you want this eyesore in your back yard? At least it is not full of toxic plastics and styrofoam… this time.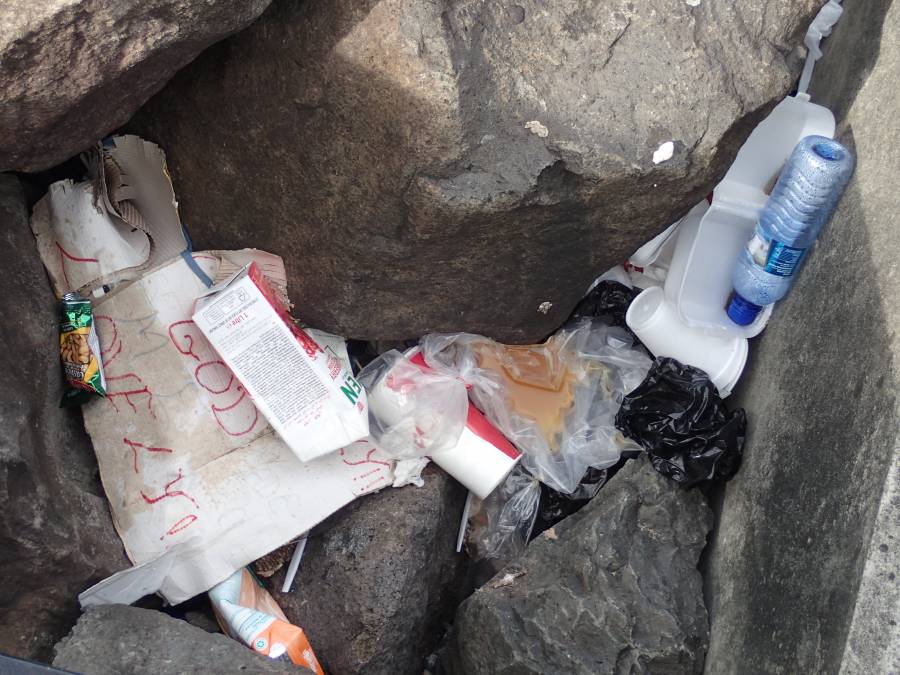 The second picture is of the rocks by the walk from the cruise ship terminal and the water taxi jetty; for many cruise visitors, the first impression of Grenada. First impressions count. These rocks were painstakingly cleaned in August, and were full of garbage again in a matter of weeks.
The government makes sporadic efforts to tidy up — the rotting boats at the Lagoon have been removed, and the river at River Road that Prince Harry might have seen, has had an amazing facelift. This is good — but why was all the debris there in the first place?
Can we all, for the New Year, make an easy pledge to do what is right — to use the bins, not the ditches, the verges, the drains, for 'disposal'?  And dare we hope for enforcement of the Litter Act this year??
Please, everyone: leave Grenada as you would wish to find it. All of it. Wherever you are.
Grenada Green Group (G3)
NOW Grenada
is not responsible for the opinions, statements or media content presented by contributors. In case of abuse,
click here to report
.