Grenlec is encouraging customers to manage their electricity usage, as world fuel prices have increased the cost of electricity over the last 2 months.
In June, customers paid 2¢ more per kilowatt-hour (unit) of electricity than they paid in May. With a non-fuel rate that has remained virtually unchanged in 22 years, this recent increase in electricity prices is due to the rise in the price of fuel on the world market.
Monthly Fuel Charge
June 2014 – June 2016

Month
2014
2015
2016

January

48 cents

29 cents

February

41 cents

25 cents

March

38 cents

23 cents

April

37 cents

22 cents

May

38 cents

24 cents

June

63 cents

39 cents

26 cents

July

63 cents

40 cents

August

63 cents

39 cents

September

62 cents

35 cents

October

61 cents

33 cents

November

58 cents

32 cents

December

54 cents

31 cents
Announcing the upward movement of fuel prices, Collin Cover, General Manager of Grenlec, said that despite the increase, the fuel charge is still 37¢ per kWh lower than 2 years ago, and 3¢ lower than the beginning of this year. He added, "We are advising customers, because while Grenlec and Grenada cannot control world fuel prices, our customers need to be aware of what is happening. We also want customers to understand that they have the power to manage how much electricity they use, and urge them to develop good electricity conservation habits even while the price is low. Do not waste energy even if it is cheap."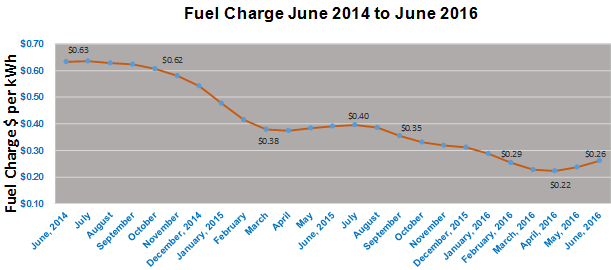 While Grenlec enjoys a marginally lower price from Petrocaribe, this price moves with changes in world fuel prices. Over the past 2 years, world fuel prices have dropped dramatically resulting in a more than 40¢ decline in the fuel charge that Grenlec has passed on to customers.
The Grenlec CEO is advising customers to take advantage of energy management information provided by the Company and others, to cultivate responsible energy use habits that will serve their homes and businesses well.
Mr Cover added, "Even in the future we envision of stable electricity prices from renewable energy, we will consistently tell our customers to conserve energy and preserve our environment for the generations to come. The information we are providing will help our customers make good decisions about how to get the most value for the money they spend on electricity".
NOW Grenada
is not responsible for the opinions, statements or media content presented by contributors. In case of abuse,
click here to report
.