Grenlec continues to explore renewable energy options for a range of applications. The Company is supporting Aris Wind in testing the effectiveness of its products under typical Caribbean conditions. As a first step, Grenlec has collaborated with the US-based company to install one of their Remote Power Units (RPU) at the Sugar Mill Roundabout.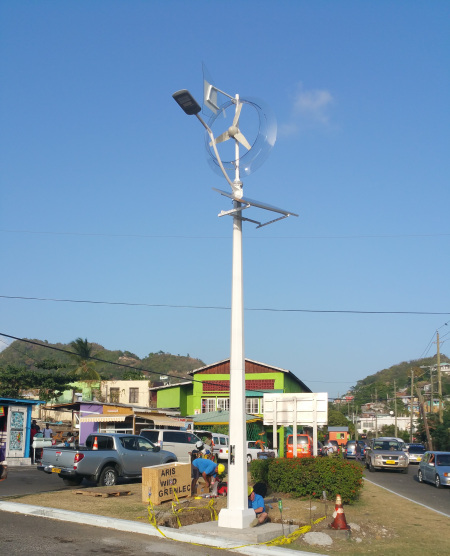 The RPU is an off-grid lighting solution powered by a combination of wind and solar energy.  The unit installed at Grand Anse, St George, features an 80-watt energy efficient LED (light emitting diode) street lamp, a 250-watt solar photovoltaic (PV) panel, and a 300-watt wind turbine. The wind turbine is encircled by ducts to boost the speed of wind across the turbine blades. This feature is designed to enhance performance and reduce the need for a larger turbine. The energy generated is stored in batteries that are designed to provide power to the street lamp for up to 5 days.
According to Jusceno Jacob, Electrical Engineer with responsibility for Renewable Energy, "Grenlec is happy to support Aris in this initiative, because it complements our growing renewable energy programme, which includes customer-owned installations."
Last year, the Company announced the signing of a contract for 937 kW of solar photovoltaic (PV) renewable energy spread over 13 sites, at an aggregate capital cost of more than EC$6.4 million. Confirming the imminent start of construction of this solar project, the Engineer explained the importance of demonstrating and testing other types of renewable energy.  
Noting that the vast majority of renewable energy investment in Grenada has been in solar, Jacob asserted, "wind energy generation remains a strong area of focus for our Company, and may present good opportunities for our customers. As Grenlec transitions from the use of imported fossil fuels to indigenous renewable sources, we also hope to inspire more customers to participate in other types of renewable energy generation, including wind".
The performance of the RPU installation at the Sugar Mill Roundabout will be monitored during the upcoming months, and Grenlec is continuing discussions with Aris and others about other products that may be suited to our environment.
Grenlec
NOW Grenada
is not responsible for the opinions, statements or media content presented by contributors. In case of abuse,
click here to report
.