On 9 April, St George's Youth Centre in St George served as the site for the global launch of the "Shark Stanley" campaign. Shark Stanley — a friendly cartoon hammerhead — is the global ambassador for shark conservation. He's the star of The Adventures of Shark Stanley and Friends, a science-based children's book, as well as its accompanying social media campaign. 

In conjunction with Grenada National Learn to Swim Week, the event welcomed participating children from across Grenada to mark the official global launch of the Shark Stanley campaign, while celebrating swimming education and marine conservation. The event featured fun activities for kids including face-painting, music, temporary shark tattoos, and a bouncy castle, as well as a reading of The Adventures of Shark Stanley and Friends by author, Leah Meth.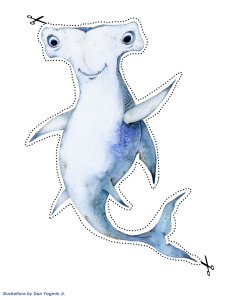 The book uses scientific and economic research about the importance of sharks to the marine ecosystem, tourism, and food security in a format that is fun and accessible to young people. The accompanying social media campaign involves taking photos holding a cutout of Shark Stanley or one of his seventeen shark species friends and posting them to Facebook, Twitter, or Instagram with the hashtag #SharkStanley, linking a global network of conservation-minded youth.
"It is incredibly exciting that our island is serving as the global launch site for the Shark Stanley campaign," said Krisma Moore, Grenadian marine biologist and graduate of the St. George's University. "Shark Stanley's educational message is so important for helping Grenada's youth understand the importance of marine conservation and we're so proud to link this message with the good work of Grenada National Learn to Swim Week."
One hundred million sharks are killed annually in commercial fisheries. Scientific research has demonstrated that 30% of known shark species assessed by scientists are threatened with extinction. Sharks play an important role in maintaining the health of the entire ocean. Many species of sharks are top predators, and they regulate the variety and abundance of species in the food web, including commercially important fish species. Sharks also help to maintain healthy marine habitats, such as coral reefs. Sharks are one of the top species that SCUBA divers want to see, thus their presence is critical to the tourism industry.
Thursday's event was the first of 10 global Shark Stanley launches happening all over the world including events in China, The Bahamas, Fiji, Samoa, Canada, the United States, Turks and Caicos Islands, Hong Kong and the Philippines.
NOW Grenada
is not responsible for the opinions, statements or media content presented by contributors. In case of abuse,
click here to report
.