Southern Wind 94, Windfall, skippered by Fabrizio Oddone and sailed by a crew that includes several Russians, crossed the finish line of the 2014 RORC Transatlantic Race, off Quarantine Point, Grenada at 14:53:48 UTC on Thursday 11 December 2014 with an elapsed time of 11 days, 04 hours, 53 minutes and 48 seconds. The powerful and impressive 94ft Maxi is the probable winner of IRC Zero.

The fire services water cannon blasted a plume of water across their bows and Windfall responded with a blast, from their air horns. Windfall has a very international crew of 15 sailors from Italy, France, Ireland, Spain as well as Russia and will be competing in the RORC Caribbean 600 in February next year.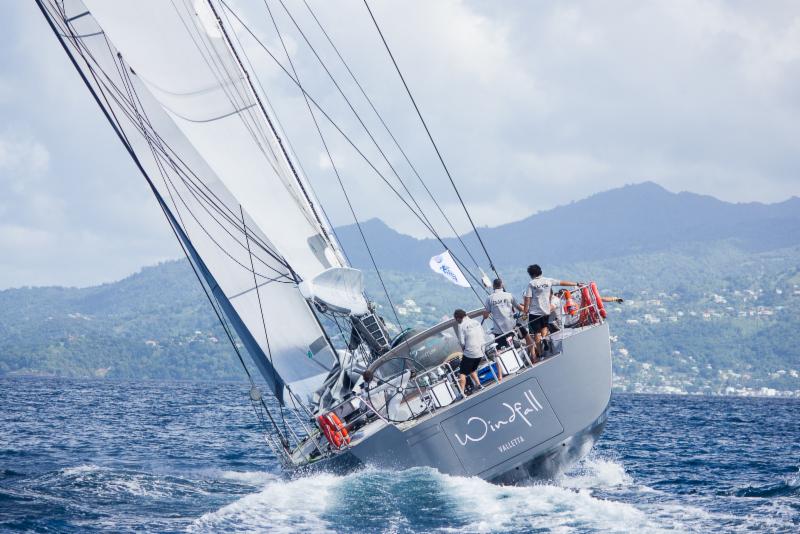 Windfall received a huge welcome as they arrived at Camper & Nicholsons Port Louis Marina. James Bremridge, RORC Deputy Racing Manager and Glynn Thomas, GM Camper & Nicholsons Port Louis Marina, congratulated them on arrival.
The Russian guests are corinthian sailors who have come together as a team to improve their racing performance through a number of events, including the Rolex Middle Sea Race and the RORC Transatlantic Race. Famous members of the professional crew include Lorenzo Mazza, a seven-time America's Cup veteran and winner of the 32nd edition with Alinghi. Multiple world champion, Francesco Mongelli and Irish Olympic Finn sailor, Tim Goodbody.
Windfall's Skipper, Fabrizio Oddone spoke dockside in Port Louis. "It was a tough start with strong winds and confused seas, and a few of our guests had an uncomfortable 48 hours, but once we started reaching out into the Atlantic we got into a great rhythm on board and we started to really battle with Lupa of London. It was a very exciting fight; so many times we were very close to each other. We were very fast reaching and they were fast downwind with their Code Zero. On several occasions we covered more than 350 miles in 24 hours; the boat was going really well and we hit a top speed of 23 knots. However, the second half of the race was downwind which really suited Lupa and at the end we tried everything to pass them by reaching south and north, but it wasn't possible. They were the fastest boats. Everybody on board Windfall has enjoyed the race. It is a rare and exciting opportunity to race across the Atlantic. Thank you to the RORC for this great opportunity."
Windfall is the second Maxi to complete the RORC Transatlantic Race. The next finisher should be American Class40, Oakcliff Racing. At 1800 UTC on 11 December, Oakcliff Racing had 250 miles to go. None of the four American crew on board has completed an Atlantic Race before and Oakcliff Racing is expected to arrive in Port Louis today, 12 December.
The inaugural RORC Transatlantic Race, in association with the International Maxi Association (IMA), started on Sunday 30 December 1000 UTC from Puerto Calero, Lanzarote, Canary Islands bound for Grenada, West Indies, 2,995 nautical miles across the Atlantic Ocean.
NOW Grenada
is not responsible for the opinions, statements or media content presented by contributors. In case of abuse,
click here to report
.