INVITATION TO AN ART SALE
By
FERNANDA STEELE
on Thursday, 27 November 2014 at 6 pm
at Alliance Française, The Villa, St George's
Opening Remarks by Dr. Russell Dunbar Steele
Sale will continue until 4 December 2014
Part Proceed will go to the Dorothy Hopkin Centre for the Disabled
The prices in the current sale have been drastically reduced in the hope of raising more funds for the Dorothy Hopkin Centre for the Disabled.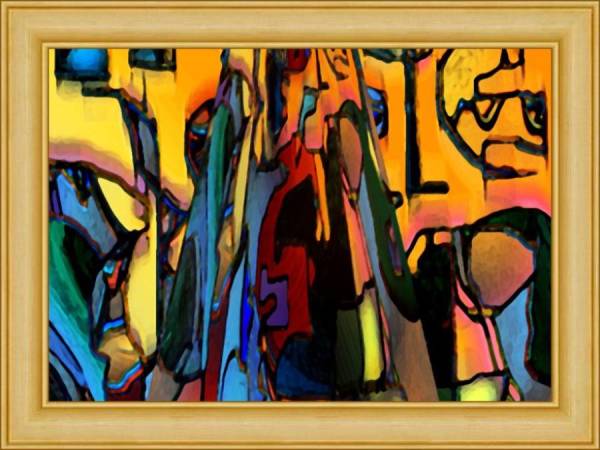 Note on the Artist
Fernanda Steele was born and grew up in Italy, lived in London (England) for ten years and in Jamaica for thirty-eight years. She now resides with her husband, Russell Dunbar, in Grenada of which country she has become a citizen.
Her formal education led her toward Literature and she holds a Ph.D in Latin American Literature from the University of the West Indies, Jamaica, where she taught for a few years. She has also participated in a number of Conferences and has published a number of papers on Caribbean authors including Edgar Mittelhozer, Earl Lovelace, Derek Walcott, Tony McNeill, Wilson Harris, Pedro Mir. She has translated Derek Walcott's Dream on Monkey Mountain into Italian which was published in Milan, Italy by Adelphi.
From about the year 2000, however, she turned the focus of her attention towards the visual arts exploring the possibilities of the computer as the medium on which to execute her work.
Her work comprises painting as well as artistic photography.
She has held several solo exhibitions in Jamaica and Grenada and has participated in many group shows both in these countries and in Hawaii. In July 2013 she held a solo exhibition at the Mexican Embassy in St. Lucia, and in April 2014 she also held a solo exhibition at Horizons Art Gallery in Trinidad
Her work has been featured on some of the most prestigious Galleries of the net, and has been collected by prestigious institutions such as The University of the West Indies, Jamaica, and by business enterprises such as Hubbards, Grenada. It has also been widely collected by private individuals in Jamaica, Canada, England, the U.S.A, Ireland, France, Italy , Grenada, St. Lucia, Trinidad
The current sale items include a selection of works using fractal geometry as a matrix to go into further explorations of her vision.
Fernanda generally does her own printing using archival inks on archival paper, thus guaranteeing the quality of the work.
Note on the Dorothy Hopkin Centre
The Dorothy Hopkin Centre for the Disabled is a non-profit organization with Government assistance, who supports the Physically challenged residents, those of whom are abandoned and needs rehabilitation.
Their Mission is to ensure residents who can reach their fullest potential will one day return to their respective communities where they will be treated with respect and dignity.
Dorothy Hopkin Centre is located in Tempe, North East of St George's and named after the Prominent founder Ms Dorothy Hopkin aunt of Sir Royston, Ann Marie, and Arnold Hopkin, this centre is the oldest and only home for children living with disabilities.
Currently the Centre is registered with thirty-eight (38) residents with eight different disabilities. They are proud at the progress made after fifty-one (51) years, just to name a few: the employment of one of the more articulate residents, ensure all residents have a schooling education apart from those who do not have that capability, regular dance classes, Yoga sessions, therapy sessions and art and craft classes etc.
All this is possible through the kind courtesies of the following, Peace Corps Volunteers, Neuro Science club, Significant others, Reach Grenada, Staff, and other volunteers.
NOW Grenada
is not responsible for the opinions, statements or media content presented by contributors. In case of abuse,
click here to report
.