The months of September and October are truly a period of remembrance and thanksgiving for us as Grenadians; remembrance and thanksgiving crafted from the vantage point of our view of our history.

September, of course, is remarkable for our remembrance and thanksgiving for us having survived our three worst natural disasters in the last 60 years: Hurricane Janet, 1955; Hurricane Ivan, 2004; and Hurricane Emily of 2005.
Just recently, however, two giants in their respective fields went to the Great Beyond. Queen's Counsel Carol Bristol, one of the best legal minds to have graced this land, died on Tuesday.
St Lucia-born, Grenada-educated Bristol held various top jobs during his long and stellar legal career. They included Chief Justice of Grenada; Acting Registrar of the Supreme Court in St. Lucia; Registrar of the Supreme Court in St. Kitts, Nevis & Anguilla; Chief Registrar of the Supreme Court of the Windward & Leeward Islands; and assistant to the Attorney General of the Windward Islands. Bristol is a genuine role model for all who aspire to be, or currently are, legal practitioners.
A few weeks prior to Bristol's death, A.C. Alexis died in Trinidad. Alexis, born in St Patrick, migrated to Trinidad. He, like fellow Grenadian Tubal Uriah "Buzz'' Butler, was a central figure in the time right before and just after Trinidad attained independence from Britain in 1962.
In 1956, for example, The Butler Party won two seats in general elections. Butler was one of the winners. Alexis ran as an Independent. He, too, won, but was closely aligned to Eric Williams' People's National Movement (PNM) in legislative voting.
Eventually, Alexis not only married into the Williams family but also joined the PNM and became Minister without Portfolio and a Special Adviser to the DOC, whose godfather was Grenadian T A Marryshow. Alexis, Butler and Maclean Pope are among Grenadians who successful ran and were elected to parliament in Trinidad and Tobago.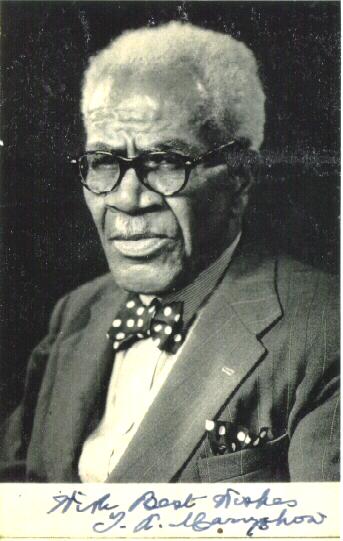 The aforementioned T A Marryshow died October 6, 1958. Thus, Monday is 56 years since the passing of Marryshow – politician, journalist, orator, the 'Father of Federation' and the 'Elder Statesman of the West Indies.'
Later this month, however, will be the anniversary of one of the most tragic moments in modern Grenadian history. Thirty-one years ago – on 19 October, 1983 – the Grenada Revolution imploded in carnage. The leaders of the Revolution, which had transformed Grenada, Carriacou and Petite Martinique in positive ways such as in health and education, were unable to amicably settle internal differences.
When the smoke literally was cleared on Fort George, then Prime Minister Maurice Bishop was dead. He was taken to the fort after supporters released him from house arrest. Bishop and several others, including cabinet colleagues, were executed. The group held responsible for the shooting was jailed and later released. They have expressed remorse in words and writing, but the healing over the events of October 19 remains slow and painful.
October 19 led to a US-led invasion six days later, with more killing, and more controversy about many things; including sovereignty, invasion by force or invitation, and who should be designated as heroes and on honouring heroes. October 25, since that dramatic day in 1983 when foreign troops landed here, has been designated by the powers-that-be as Thanksgiving Day in Grenada.
Whether you attend the state-sanctioned Thanksgiving Day ceremony or not, we urge you to give thanks this October 25 – and every day for that matter –for God's blessings of resilience upon us; for seeing us through every trial and tribulation; and for all The Creator's great mercies.
Let's remember, too, all the men and women – alive and dead – who have contributed immensely to nation building. It's our fervent hope that soon, very soon, we'll have our own locally made system for bestowing National Hero status on our sons and daughters.
Police, Parents & Children
In closing, Caribupdate Weekly wants to commend the Royal Grenada Police Force for backing our call for parents to set parameters, and ensure their children follow the guidelines, with regard to when they should be off the street and at home. As we said in our September 25 editorial, "this shepherding and shooing" of children, haranguing them to catch their buses and to dispatch them home, "is not the responsibility of the police or the government; it is a parental responsibility."
This past week, in a release, the RGPF said: "In an effort to help curb the growing problem of loitering by school children in the town of St George after school hours, the Royal Grenada Police Force is calling on parents and guardians to step up with their responsibility and ensure that their children get at home within a reasonable time."
We believe the RGPF has taken the right step. Police should be employing their meager resources into such things as preventing and solving violent crimes and closely monitoring our air and sea ports to keep out criminal; and not in babysitting teenagers and having to resort to the threat of enforcing a totally archaic and outmoded loitering law.
Let's hope parents and guardians take up their responsibility.
Source: Caribupdate Weekly, Editorial October 2, 2014. 
NOW Grenada
is not responsible for the opinions, statements or media content presented by contributors. In case of abuse,
click here to report
.