Tuesday 8 July saw the arrival in Grenada of over 100 leading tourism experts and specialists, for the Third Symposium for Innovators in Coastal Tourism.
Grenada was selected as host country to this year's symposium which was arranged by Caribbean Tourism Organisation (CTO), in partnership with Centre for Responsible Travel (CREST) in conjunction with Grenada Hotel and Tourism Authority (GHTA) and the Grenada Tourism Authority (GTA).
At the Symposium, 100 to 150 participants from across the Americas explored challenges to the wider adoption of sustainable tourism models. The 3 day symposium featured 16 workshops and 5 plenary sessions that covered an extensive range of topics, including:
Climate change mitigation and adaptation for coastal tourism
Financing sustainable tourism
'Greening' marinas, spas, golf courses and vacation homes
Impacts and innovations of cruise tourism
Travelers' philanthropy
Sustainable practices and design in boutique hotels, large coastal resorts, and vacation homes
Documentary films on coastal tourism
Key messages expressed at the symposium were the importance and need of sustainable tourism and effective coastal management. Many Caribbean islands rely on tourism – a major contributor to their GDPs – which are heavily impacted by beach and coastal erosion.
The German Agency for International Cooperation (GIZ), one of the implementing agencies for the Integrated Climate Change Adaptation Strategies (ICCAS) Project in Grenada, was a contributing sponsor of the symposium under GRENADAPTS – the government branding for its climate change adaptation efforts here in Grenada.
Speaking at the symposium, Dieter Rothenberger, Head of the Grenadian-German ICCAS Project, re-emphasised the need for integrated strategies to be put in place to lessen the negative effects of climate change and adapt for the future. "Climate change has already begun. You can clearly see examples of this in areas like Pearls in St Andrew and Tibeau, Carriacou, where parts of the cemetery are already under water."
"We urgently need to implement integrated approaches and work together, as independent actions without scientific data can cause more harm to the environment," he further stated.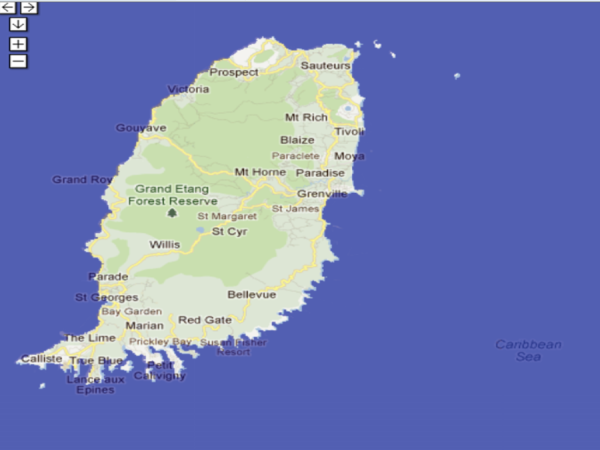 Sustainably managing natural resources such as coral reefs, mangroves and other marine life are but a few of the actions that were identified to address the negative impacts of climate change. In addition to these, it was further noted that pollution of rivers, sand mining, and inappropriate siting of coastal construction, all have a significant and detrimental effects on the coastline.
At the symposium, several innovative ideas for adapting to climate change were shared, including the need for investment in shoreline protection in order to make a change. Taking the example of neighbouring Barbados, there is evidence to show that an investment of 0.5% of GDP for coastal zone management saved 70% of Barbadian GDP. Or in Vietnam, where planting and protection of nearly twelve thousand hectares of mangroves, cost US $1 million investment, but saved over US $7 million on expenditures for sea wall maintenance.
Of particular note was the recognition that climate change and improper coastal zone management can severely impact other areas of the economy such as damage to infrastructure after hurricanes and flooding, which directly results in higher interest loans and insurance due to increased risk. Construction and building restrictions as well as decreased production in other areas like agriculture due to salt water intrusion and land loss also occur as a result.
The Environment Division of the Ministry of Agriculture, Lands, Forestry, Fisheries and the Environment, GIZ and the United Nations Development Programme (UNDP), the implementing partners for the ICCAS Project remain on track with their goals to help Grenada to adapt to climate change and to strengthen the capacity of government to mainstream adaptation strategies. The ICCAS programme is funded by the German FederaI Ministry for the Environment, Nature Conservation, Building and Nuclear Safety of the Federal Republic of Germany under the International Climate Initiative (IKI).
In the following months, the ICCAS Project will embark on a nationwide sensitisation effort to create awareness of the changes in the environment and the part we all need to play in securing our future.
NOW Grenada
is not responsible for the opinions, statements or media content presented by contributors. In case of abuse,
click here to report
.