"Raise it Good" captures 1st place in the Grenada Parish Outboard Fishing Competition
Local fishermen from all over the country, were once again given the opportunity to win attractive prizes in the 3rd annual Grenada Parish Outboard Fishing Competition, which was held on 24 January 2014. The Budget Marine Spice Island Billfish Tournament (BMSIBT) partnered again with the Ministry of Agriculture, Lands, Forestry, Fisheries and the Environment, with support from sponsors LIME, RUBIS W.I. and Sissons Paint, to host another successful competition.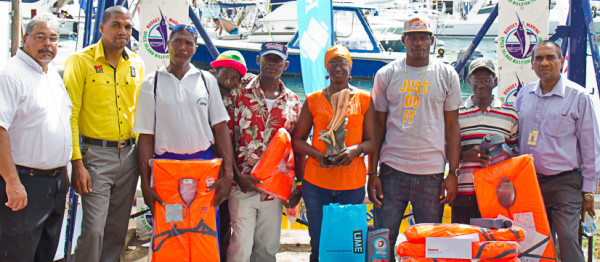 Any licensed fisherman with a boat using an outboard engine immediately qualified for entry into the tournament. Participating fishermen began their fishing day at 6am and returned to weigh the day's catch at respective fish market(s) in their parish.  Participants with the highest aggregate catch were awarded cash and other prizes for the first three places, as well as top positions in each parish.
Richard McIntyre, Chairman of the BMSIBT Committee commented "We are pleased to be able to host this tournament once again. It is a cause that's very dear to us, as it's a way to give back to our community whilst also promoting friendly competition and sportsmanship. We continue to seek ways to make the competition bigger and better each year."
Topping this year's competition in third place, was Kellon Marrast of St. Andrew with an overall catch of 200 lbs. Jude Sylvester of St. George retained his second place position with 450 lbs. Wilson Julien of St. Mark with an aggregate catch of 471 lbs, went home with the coveted first place trophy as well as a LIME Nokia Asha Android handset, 1 large cooler, life vests as well as a cash prize. The award ceremony was held on Thursday at the Grenada Yacht Club.
This year's competition witnessed another record turnout with all participating fishermen delighted with the prizes awarded. "We are able to hold this tournament each year due to the support from our corporate sponsors. Looking forward to 2015, we anticipate another exciting event", Richard McIntyre commented further.
The Grenada Parish Outboard Competition remains an exciting addition to Grenada's annual sporting calendar and a testament community spirit.
Top place boat for each participating parish
Name
Boat
Parish
Aggregate catch weight
Howard Mitchell
JeeZee
Petite Martinique
184lbs
Kellon Marrast
Paper Doll
St. Andrew
200lbs
Craig Calliste
St. Patrick
40lbs
Joseph Britton
Callaloo
St. John
92lbs
Wilson Julien
Raise it Good
St. Mark
471lbs
Jude Sylvester
Princess
St. George
450lbs

 
NOW Grenada
is not responsible for the opinions, statements or media content presented by contributors. In case of abuse,
click here to report
.