by Linda Straker 
Medical mission arrived on 20 May and will depart on 27 May
Mission is to strengthen bilateral relations between Grenada and Palestine
PICA helps other States to achieve SDG benchmarks

A 12-member humanitarian medical mission from Palestine is currently offering its services at the General Hospital in St George's as part of efforts to assist Grenada in achieving Sustainable Development Goal (SDG) 3, which focuses on ensuring healthy lives and promoting well-being for all at all ages.
Led by Ambassador Imad Zuhairi, Assistant Minister for international cooperation and Director General of The Palestinian International Cooperation Agency, the medical mission arrived on 20 May and will depart on 27 May. The team was officially welcomed to Grenada during a ceremony on Monday morning which Health Minister Jonathan La Crette and other senior Ministry of Health officials attended. 
Ambassador Zuhairi said that the initiative is part of efforts by President Mahmoud Abbas, and Dr Riad Malki who is Minister of Foreign Affairs & Expatriates, to strengthen bilateral relations between Grenada and Palestine following the signing of an agreement by Ambassador Linda Sobeh Ali when she presented her credentials Governor-General Dame Cécile La Grenade in November 2022. At that ceremony, she promised to strengthen bilateral relations between both States.
"Today we start the first Medical Programme at St George's General Hospital in Grenada, in full cooperation with the Palestinian Ministry of Health, Medical Association Jerusalem Centre, the Palestinian Embassy to the Caribbean, Range Developments, & Kamal Shehada Foundation, and the official Palestine Broadcasting Corporation," Ambassador Zuhairi said.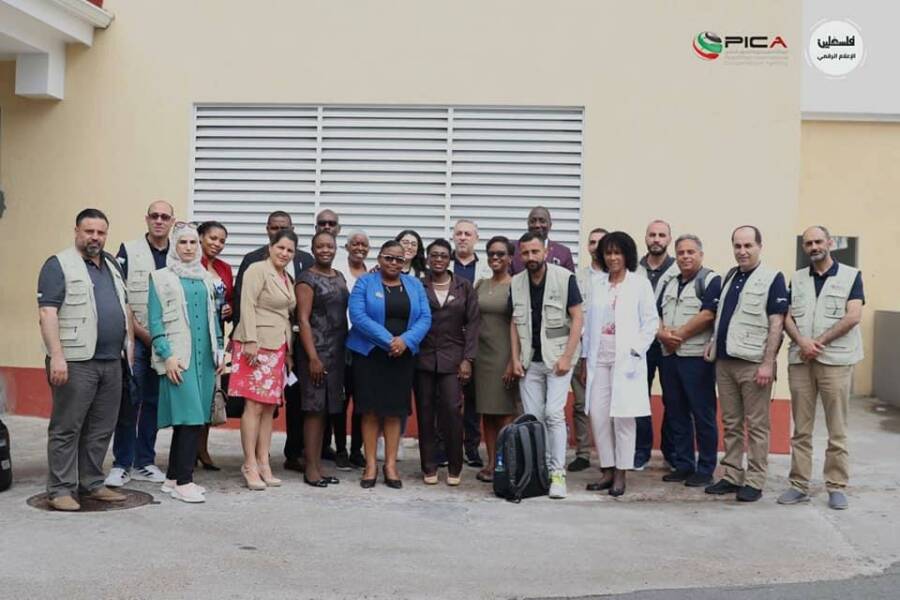 The humanitarian medical team consists of general surgeons, anaesthesiologists, ophthalmic surgeons, urologists, breast oncoplastic surgeons, traumatologists, and nurses. They will engage in several clinical activities, including eye surgeries, prostatectomy, and cholecystectomy, as well as accompanying doctors on daily ward rounds.
The Palestinian International Cooperation Agency represents the role of the State of Palestine in international development, otherwise referred to as "PICA". There is a heavy focus on helping other States to achieve the benchmarks of the Sustainable Development Goals. 
PICA has been involved in projects across the Caribbean, including Disaster Management, direct hospital involvement, Medical Emergency Evacuations, and overall Emergency Services Management. "Our personnel are all highly qualified, registered, accredited and have extensive experience in remote site Medical, Rescue, and Security Management. Our team of doctors is serving as volunteers in this mission in the spirit of solidarity through development," Ambassador Zuhairi said.
"We look forward to a great partnership and continued collaboration with Grenada on health, education, communication, information technology, environment, agriculture, and other fields of common interest. We aim to focus on ways both Grenada and Palestine can work together on mutual issues of importance," he said.
NOW Grenada
is not responsible for the opinions, statements or media content presented by contributors. In case of abuse,
click here to report
.