by Curlan Campbell 
Kennedy Fredrick was from Petite Martinique
Part of a Caribbean student group that participated in 1969 riot
Fredrick was charged with extortion; his bail was set at CAN$20,000
The legacy of Kennedy Fredrick of Petite Martinique and the role that he and 5 other Caribbean students played in the "Sir George Williams Riot" of 1969, was given proper recognition during a virtual lecture by Dr Nalini Mohabir, an associate professor in the department of Geography, Planning, and Environment at Concordia University.
Dr Mohabir presented to mark La Digue Community Heritage Honours Remembrance and Memorial Day held on 20 February 2023 as part of activities to honour the contribution made by Grenadians to the civil rights and black power movement of the 1960s. Most notable is the legacy of Malcolm X's mother, Louise Langdon Little, who hailed from the community of La Digue.
Little is mentioned in history books of Kennedy Fredrick and his fight for equality and justice, which led him and 6 other Caribbean students on scholarship in Montreal, Canada, to protest against being systematically failed by Sir George Williams University biology professor Perry Anderson. Anderson was accused of repeatedly giving black students lower grades simply because of race.
The university set up a committee to investigate the racism allegations lodged against the professor by students but was later dismissed. This prompted 200 students to occupy the university's computer centre on 29 January 1969, where they organised meetings, sit-ins and peaceful protests across campus. Riot police stormed the Henry F Hall Building of the university on 11 February 1969, causing a fire which forced students inside the computer centre to evacuate the building. The damage was estimated at around $2 million and led to 97 arrests by the police.
The 5 other students were Terrence Ballantyne of Trinidad, Douglas Massop, Wendel Goodin, Allan Brown of Jamaica, and Rodney John of St Vincent. Among those arrested, Fredrick received the harshest penalty, charged with extortion; his bail was set at CAN$20,000.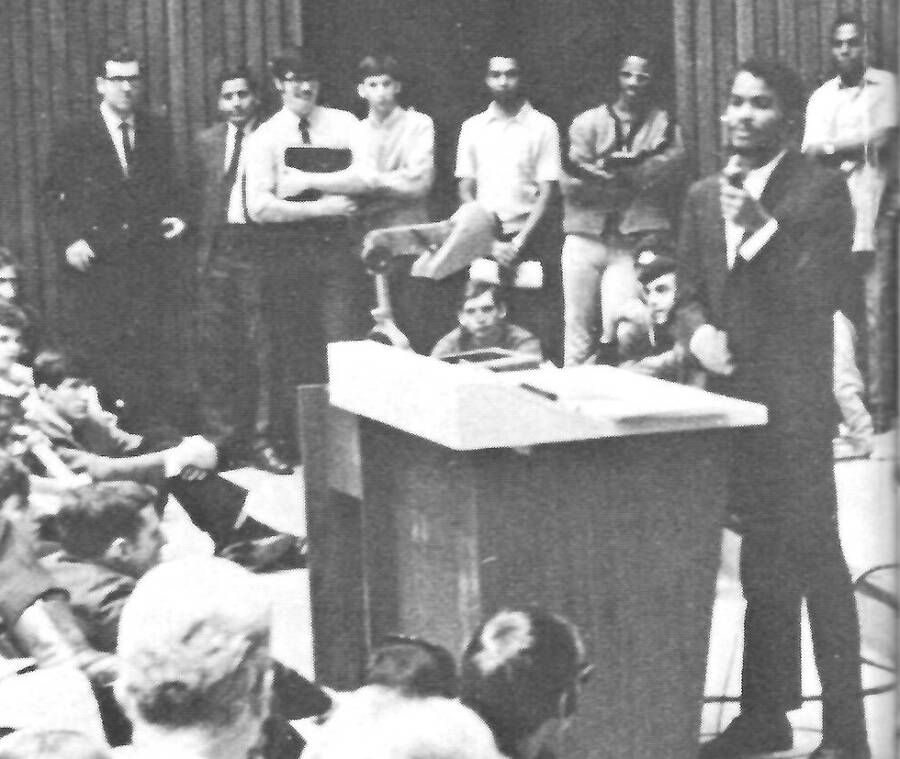 Dr Mohabir said it was due to the generosity of black folks in Grenada and the diaspora that Fredrick could make bail. "He managed to make bail. He did that with the help of the black community here and abroad, through students as well as his own savings. So he was able to make bail because he had the extraordinary support of the black community, who feared that he will suffer grave consequences in a Canadian court of law; and at this time the death penalty was still on the books in Canada."
Fredrick later fled Canada to Tanzania before returning to Grenada. He was the only student who did not complete his degree and had a stress-induced breakdown.
Kennedy's daughter Nantali Indongo is a graduate of the University of Ottawa and Humber College and the host of CBC Montreal's provincial arts and culture programme "The Bridge" on CBC Radio One. "Her father suffered a great deal; he suffered from stress and depression caused by the events in Montreal. We know that the stories of the way he and the other students suffered are not the kind of stories that are circulating in the media. These are not the stories recorded in the archives, but they remain with us because the children of those protestors speak out because there is a network of love and caring relations that keep these memories alive," Dr Mohabir said.
Meanwhile, Kennedy's comrades Terrence Ballantyne went on to complete a law degree; Douglas Massop graduated with an MD; Wendel Goodin completed 2 Master's degrees. Allan Brown completed a PhD in biology, and Rodney John finished a PhD in psychology.
The events that surrounded the Sir George Williams riot of 1969 were made into a feature documentary in 2015 by film director Mina Shum entitled "Ninth Floor." Rodney John, one of the central narrators in the documentary, brought together those affected by the events to set the record straight, including Kennedy's daughter. Indongo is also a member of Nomadic Massive, a multilingual Hip-Hop group based in Montreal.
Twenty-eight minutes into the over 60-minute film, Indongo was introduced to discuss the impact of her father's activism on the family. She was quoted as saying, "People definitely put this kind of filter on my dad as being this kind of activist type. But when I speak to my family about him, my mother says they were just students who wanted to be treated fairly."
Dr Mohabir's presentation, "Reflecting on decolonising Pedagogies and the potential for Community Transformation" was inspired by the teachings of Walter Rodney, a Guyanese historian, political activist and academic. Dr Louis Marshall Barker, a Grenadian living in Houston, Texas, followed her presentation. Dr Barker has worked in Education for over 14 years and has served as a high school ELA teacher, instructional coach and curriculum developer. She works closely with educators to revamp curriculum and structures to ensure all students are seen and have an opportunity to be successful as defined by them. Her presentation was centred around decolonising Caribbean Culture and Identity.
NOW Grenada
is not responsible for the opinions, statements or media content presented by contributors. In case of abuse,
click here to report
.