Grenadians can learn about their intangible cultural heritage with the 2023 Proud of My Heritage Calendars published by the Grenada National Trust and funded by UNESCO.

The 12-month wall calendar features an intangible cultural heritage (ICH) element each month with a photo and description. The calendars form part of the public education and awareness of the Proud of My Heritage project aimed at safeguarding and transmitting the living heritage of Grenada, Carriacou and Petite Martinique.
"The 2023 Intangible Cultural Heritage Calendar is an educational tool for every age. It's a keepsake I imagine people holding onto for years, long after 2023. The Grenada National Trust focuses on increasing public awareness of the value and beauty of our country's heritage. This free calendar is one of the ways we are promoting a greater appreciation for ICH among Grenadians," commented Darryl Brathwaite, Principal of the Grenada National Trust.
The calendar journeys from January to December, highlighting Boat Building, Shakespeare Mas, Bèlè Dance, Maypole, Fishing Boats, Shortknee, Jab-Jab, Dancing of the Flags and Cakes, Drumming, All Saints' Day and All Souls' Day, String Band Music, and an overview of the Proud of My Heritage project.
Each ICH element is described in detail with excerpts from the ICH Resource Guide compiled by the project's education and research team and the A-Z of Grenada Heritage (2022) book by John Angus Martin.
"It's fulfilling to see our research blossom into such tangible publications like this one. Over the last few months, we've conducted interviews with 40 cultural practitioners in 24 communities, ensuring that we accurately document and transmit our living heritage. It's important for every Grenadian to be able to identify and understand our culture," said Martin, Cultural Researcher with the Proud of My Heritage project.
The wall calendar, printed in Grenada, features a collection of photos by Grenadians and a painting by Joachim McMillan who won the project's photo competition in November 2022. The Lashington Agency curated the 2023 Intangible Cultural Heritage Calendar and it was designed by Pixel Perfect. "We linked the ICH element with the relevant months as much as possible, for instance, Shakespeare Mas in February for Carriacou and Petite Martinique's Carnival, Maypole in May, and All Saints' and All Souls' in November. One unique feature of the calendar is the inclusion of QR codes which direct curious readers to the Grenada National Trust's website for more information," said Chrislyn Lashington, Principal at the Lashington Agency responsible for the marketing and communications for the Proud of My Heritage project.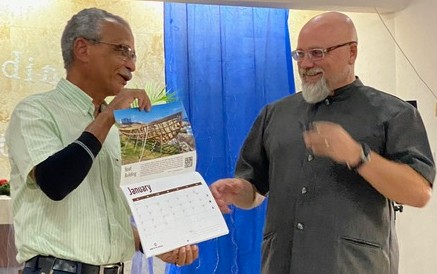 The Grenada National Trust began distribution of the 2023 Intangible Cultural Heritage Calendars at the Grace Lutheran School — the pilot school for the implementation of its ICH Resource Guide, other schools, ministries, supermarkets, businesses, and organisations across Grenada, Carriacou and Petite Martinique.
GNT
NOW Grenada
is not responsible for the opinions, statements or media content presented by contributors. In case of abuse,
click here to report
.