by Curlan Campbell, NOW Grenada
A Grenadian citizen may stand as a candidate at a parliamentary election providing he or she is aged 21 or over
Supporters of both NNP and NDC came out in their numbers for Nomination Day.
Supporters of both the governing New National Party (NNP) and the main opposition National Democratic Congress (NDC) came out in their numbers for Nomination Day ahead of the 13 March General Election.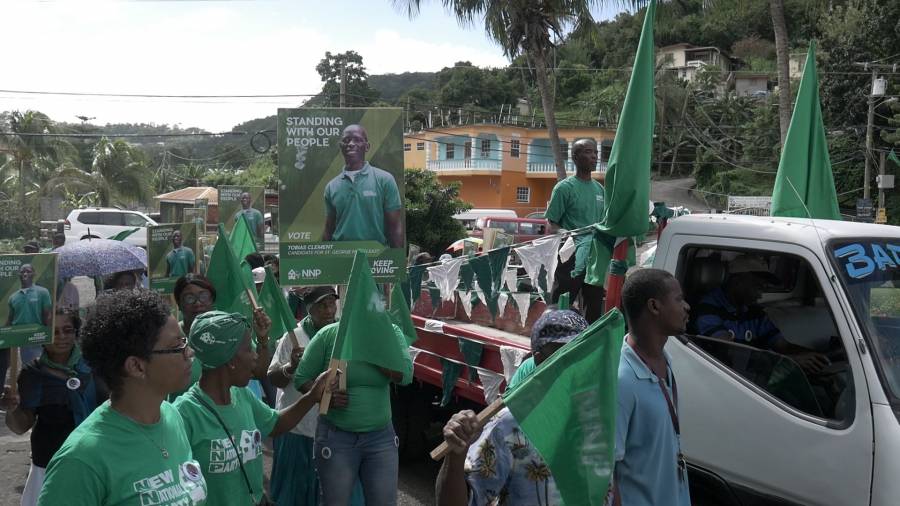 In the North-East constituency, candidate for NNP Tobias Clement was quite confident as he went into the Parliamentary Elections Office (PEO) in Tempe, St George this morning with his supporters chanting 'the house solid and pillar strong.' Clement emerged from the PEO to loud cheers from the crowd and said that if he is again elected to office, his focus is to continue the same level of service started previously. "We will continue to intensify our service so that we can best possible service to our constituency and to Grenada, Carriacou and Petite Martinique because the election is an election of service and to bring that service to bear, it means to lift up our people from all walks of life."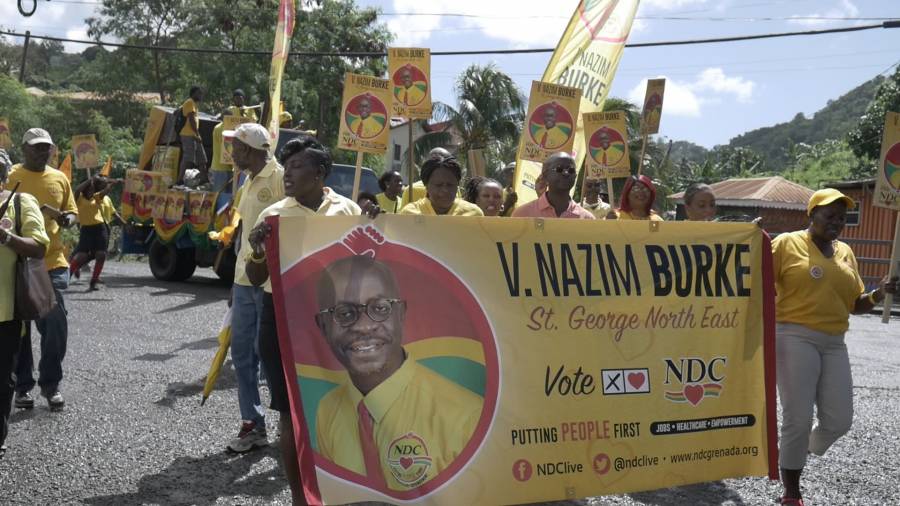 NDC supporters surrounded their political leader Nazim Burke as he made his entrance to the PEO this morning. Upon completion of the process, Burke emerged to greet his supporters. Speaking with members of the media, Burke said that the party would intensify its campaign throughout the island. "After today, the campaign intensifies. Our business is to continue to engage the population to ensure that they understand our message: why we say that the NDC has the better plan and team for Grenada and provide them with the opportunity to answer their questions and to be sure that when they go to the polls they are making an informed decision and one that will genuinely resonate with the business of the country."
Nomination day in the North-East constituency was a new experience for some candidates.
Deputy political leader of the newly formed The Progress Party, Basil Williams said the experience being nominated could have been a lot smoother. "The process today could have been a little simpler for the candidates, but it wasn't too tedious, but after today we will continue having community meetings."
The political leader of the Grenada Empowerment Movement (GEM) Earl Maitland, said the process of being nominated went as planned, as the party set their eyes on establishing the party. "Whether we win or lose this election, we will be here continuing the things we are doing, and we are here to stay."
A Grenadian citizen may stand as a candidate at a parliamentary election providing he or she is aged 21 or over. Anyone who wishes to stand for election must be nominated on an official nomination paper submitted on Nomination Day. They must stand either for an established political party or as an independent.
NOW Grenada
is not responsible for the opinions, statements or media content presented by contributors. In case of abuse,
click here to report
.