by Annette Moore
The group of artists, media personnel and other special invitees sat patiently, watching the sun crawl purposefully across the room on a humid, but beautiful Monday evening, waiting to catch Estelle's interview and Q&A session — one day before she was scheduled to perform at the first-ever Pure Grenada Music Festival, in Grenada.
Heads turned towards the door, as her light British accent broke the expectant air. She entered the room, smiling and saying quiet hellos to the crowd, as everyone paused to take her in — for the first time. Fashionably and sensibly dressed for the tropical climate in tribal print shorts, matching fringed kimono, ruffled white crop top and head wrap, Estelle looked comfortable, as she sat to begin her interview and interaction with the public.
"It's an honor for me to be here, to be able to sing for the first time here too," she beamed, during her interview with the host, Gillian Bristol. "I heard about the festival and I was like — 'This is great for the island.'"
Her calm demeanor and poise were two distinctive things, which were instantly detectable about the British–born singer, songwriter, record producer and actress. If one did not know who she was, it might be difficult to imagine that she has been active on music scene since 2004, with four studio albums under her metaphoric belt, several MOBO awards, a World Music Award and a Grammy Award, for her hit single, American Boy, among other awards. That afternoon, she could have easily been mistaken for a model, with her Naomi Campbell–like legs crossed neatly, as she smiled at the audience.
Estelle's father had always spoken of Grenada and its musicians to her.
"There's never been like a festival, per say, it's always like a Carnival, or you know? And I was like, 'Why don't they have a show — like a real showcase?'" she commented, reflecting back on her exchanges with her father. This past April, she joined other talented artists from around the world, participating in the first-ever Pure Grenada Music Festival.
"So, I'm excited to be here for the first one and just keep going. I wanna see it move," she added.
It has been a long journey to stardom for the singer, who many times took the paths less traveled, but with remarkable tenacity, she has achieved the most positive results. There is one fundamental thing everyone needs to understand about Estelle.
"I love music. It's the one thing I knew I could do, when I was younger, and I just loved it. It made me smile. It made me physically happy to be able to sing," she said, with great conviction.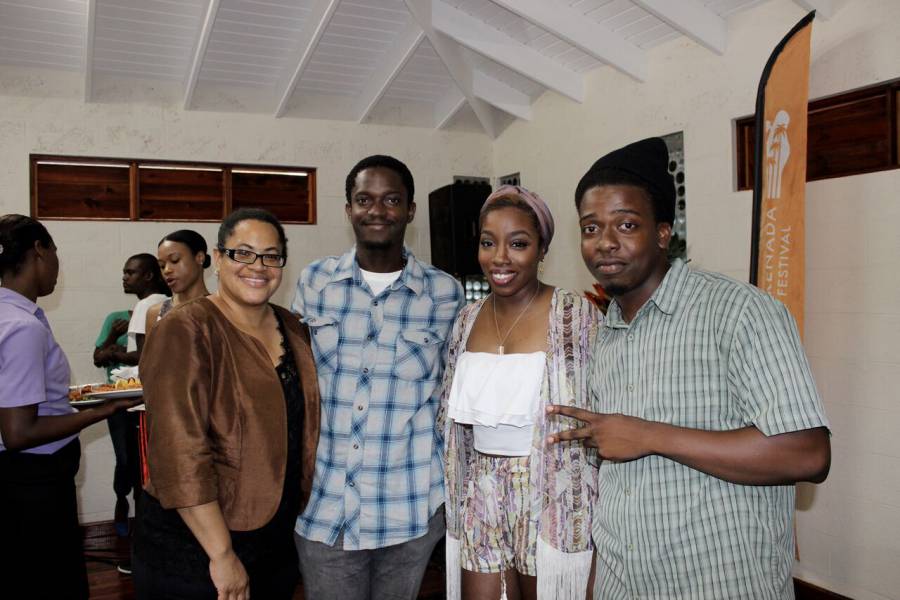 Estelle gave valuable insights into her 18-year history of making meaningful music and staying relevant in the music business.
"At the time when I started, there wasn't anyone that looked like me, that did what I wanted to do and was very determined about it and was moving along the way I was moving along," Estelle shared, speaking about her early career, in London. The artist recounted starting her own label, having her manager find a distributor and urging producers to get on board with her vision for music. Initially, she successfully completed and put out her own records. Estelle reminisced about hand writing the labels on all her CDs, at that time. She also recalled meeting with unexpected successes.
"Labels that I'd been to and that had said no to me started saying yes. They started coming back around — 'Who is this girl that sold five – seven thousand records out of her trunk, herself — what?" She laughed, reflecting on her experiences. Her persistence soon led to her getting her first record deal with V2 Records.
With regard to staying true to herself, Estelle recalled the words of those who tried to encourage her to change her sound. However, she firmly believed that what she was doing was allowing her to hit important benchmarks, which, as she put it, "made me win".
"I was right in my instinct to tell them no," she noted firmly.
Continuing to invest in herself, after parting ways with her first record label, key highlights soon arose in her career. One thing, which she said drove her career forward, was her collaboration with her friend, John Legend, who she said assisted, as an executive producer, on her debut album, The 18th Day. This album was followed by Shine, which included the hit song, American Boy, followed by her albums All of Me and her current album, True Romance, which features the hit song Conqueror.
Estelle says Conqueror is a very personal song, which she feels speaks to the world. "I feel like God gives me records that speak to me, at my time in my life, to kind of encourage me and push me down the road too," she said, remarking that her songs should leave a legacy.
Estelle does not believe in spinning out albums just for the sake of it. She has a different way of working.
"I have to live and then write. I don't know how to do it any other way and it works for me," she explained.
Estelle spoke affectionately of one of her many collaborators – Kanye West. She said working with him on American Boy was easy and that they were both on the same wavelength, regarding what was needed for that song.
"He came off an airplane, from London, so that was perfect timing, 'cause the song was talking about being from London and finding a cute American dude, which I was doing at the time," she said, smiling.
Estelle also commented on West's decisiveness.
"He's always been this convicted. He's always been that person that's like 'This is what it is and this is what it's gonna be and that's it," she noted, with a smile. "What I learned from being around him and John Legend is attention to detail, you know? Good isn't good enough."
She says working with Sean Paul, on their collaborative track, Come Over, was 'wonderful' and admits being a fan from 'way back'.
"The most nerve racking part was doing the video with him. That was nerve racking, 'cause he's cute," she laughed.
Looking forward, Estelle spoke of the direction in which her music will be going, although saying it was too early to reveal upcoming collaborations.
"The new music — it's LIVE. I'm going back to old school soul, I wanna say. I started recording records that feel like Motown – that feel like country – that feel like just rock – original rock, you know? Stuff that I can play with my band and I don't have to hit a computer and start and stop it – where they can just play it," she said, in obvious anticipation of her future work.
"I got very influenced by watching D'Angelo's comeback," Estelle revealed.
Following her interview, Grenadian artists picked Estelle's brain for a chance to access her vast knowledge reserves, for the keys to success in the music industry. When asked what strategies an artist should use to get a team to buy into his or her vision, Estelle had a very definite response.
"You shouldn't have to beg them — ask them to buy into your vision at all," she said very matter–of–factly. "You find the people that believe in you and if they do, they will jump over fences, rivers, waterfalls and backflip over yards for you and they'll get it done."
When asked where to draw the line, in terms of an artist not losing him or herself to the industry — in a negative sense — Estelle had another equally straightforward response.
"If it makes you comfortable, do it. If it doesn't, don't," she advised.
In terms of marketing themselves, Estelle encouraged artists to have a great team around them, brand themselves, develop and sell the signature things about themselves that can distinguish them from others, use social media to get themselves seen and to be competent at demonstrating a demand for a product that is of great quality, given the competitiveness of the industry.
"In the business side of it, they look at numbers, so if you have your Snapchat up or whatever, or your SoundCloud up and you're just hitting certain numbers, that no one in your region is hitting, they're gonna pay attention," she stated.
With regards to songwriting, she recommended that artists give strong attention to the quality of their lyrics and to the hook of their song. She also encouraged artists to embrace their uniqueness and develop a positive self-image.
"There's a space for every single person and everything in this world and you are you for a reason. You look like you for a reason. Roll with it. It's ok. It's totally fine," she advised.
Estelle recommended that artists learn about the careers and lives of artists whose legacy they admire, to help inform their decisions about their careers in music.
"For me I'd look at Mary J Blige and I'd look at Gladys Knight and I'd look at those types of artists and I saw the things that happened to them and I saw the struggles," Estelle noted. She said what stuck with her was that those artists were adamant about who they were and what they looked like.
Estelle also stressed the importance of being a decent person and loving one's self.
"I love myself and I got that from growing up in a family that was very much about 'Are you a good human? What did you do today? How did you serve someone today? What kind of person are you? Were you rude?' It was different tempos that we were raised on, versus 'How do you look today' and 'Is your hair this?' and 'Did you put some contacts in?' It was just about being comfortable with who you were, before I got into the industry. So, when I got in there, I was like 'Oh no, I'm not changing. No.'"
She reminded artists that, at the end of the day, music, as a profession, is a business and tough decisions will have to be made, in order for an artist to grow and develop. She also recommended having a five-year plan, with benchmarks, to determine whether one is meeting their goals and to know whether one should continue.
Estelle also spoke about her foundation, All of Me, which is approximately 4 years old, noting that the other benefits of being successful at her craft is being able to give back to her family and community.
"Primarily it's a mentoring foundation, 'cause everywhere I went and performed, everyone would say to me, 'How can I be famous like you?'" she shared.
Estelle says the foundation exists to assist with making others more knowledgeable about the range of things they can do with their talents and not simply focus on the 'being famous' part of it. All of Me pairs young people up with professionals, in various fields, who can share their knowledge and experience and assist them in becoming future successes. She says the foundation is not "reinventing the wheel", but supporting persons who are already doing work in the area of mentorship.
Estelle also had a pleasant surprise for her audience.
"We are working on getting some instruments for you guys sent over, from my sponsors in the UK and in the USA, so you'll be receiving some new instruments really soon," Estelle informed, to great applause.
"She will be coming back and she will be interacting with the artists that are here and I must congratulate the organizers of this activity, to have this session with the musicians, so that they can hear from you, you can speak with them and it's an opportunity for them to be exposed to international artists," Sen. the Hon. Brenda Hood, Minister for Culture (Grenada), said in her remarks, at the session.
Hood encouraged the singer to return and to engage young, creative talent on the island and thanked her for supporting the Pure Grenada Music Festival.
Estelle performed to a sold–out audience, on the opening night of the inaugural Pure Grenada Music Festival, at Port Louis Marina, in St George's, during the Voices of World show, on 5 April 2016. Angelique Kidjo, Hendrix Ackle and the Gospel All Star Singers and Grenada's Sabrina Francis, also performed on that night.
NOW Grenada
is not responsible for the opinions, statements or media content presented by contributors. In case of abuse,
click here to report
.