Residents of the Richmond Hill Home for the Aged and the St Cecelia Home in St Paul had a special visitor on Sunday and the mothers at the home were extremely appreciative as Head of State, Governor–General Her Excellency Dr Cecile La Grenade presented gifts and corsages to them in her first official activity since taking up the oath of Thursday on Tuesday 07 May 07 2013.
The day began for Her Excellency at 10:00 am with her arrival at the Richmond Home. She said she was happy and honoured to visit the Homes, as it was her maiden activity since assuming her responsibility as Grenada's first lady Governor General. She wished the residents a happy mother's day and following a toast at both homes, she pinned corsages on each female resident. A fruit basket was presented by Her Excellency to the two homes on her behalf.
One hundred and fifty-four (154) corsages were presented to all the women who reside in the ten homes, and a total of 271 persons were fed with light refreshments, including 118 men who also reside at the homes.
Dr La Grenade accepted the opportunity to be at the Homes at the invitation of the executive of Calabash Promotions, whose membership visited the ten homes for the elderly in Grenada on Sunday to present gift packs to mothers who are residents at the institutions.
"It's our way of recognizing and paying tribute to the mothers, establishing the elderly mothers and those who reside in the homes," said Keith Ventour, President of the Community Based Organizations which is based in the Beaulieu/Mt Gay area.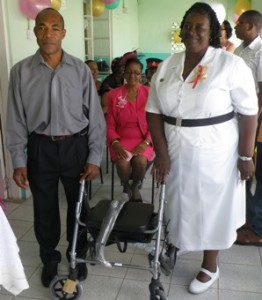 As part of the occasion, a Rollator walker (mobility walking frame) was presented by Ventour to the Richmond Hill Home for use by its residents. It was received by Sister Yvonne King on behalf of the institution. Gifts were also presented to the Hilarian and Cadrona Homes.
Meanwhile the mothers in the Tempe area were also treated with a special kind gesture on Mother's Day. Members of the Tempe Development Committee visited the homes of at least five (5) mothers to present food hampers. On hand to make the presentation were: Mr. Lester Smith Chairman of the Committee; Mr. Patrick Martin (member) and Mr. Roger Brown (member and coach of the Tempe All Blacks Football Team).
The hampers were prepared by Marketing and National Importing Board who also donated one of the hampers to the T.D.C. Ms. Dyna Courtney was the first mother to receive the well put together Mother's Day gift which included food items, fresh fruits and vegetables.
NOW Grenada
is not responsible for the opinions, statements or media content presented by contributors. In case of abuse,
click here to report
.